Project Spotlight: E28 BMW M535i
---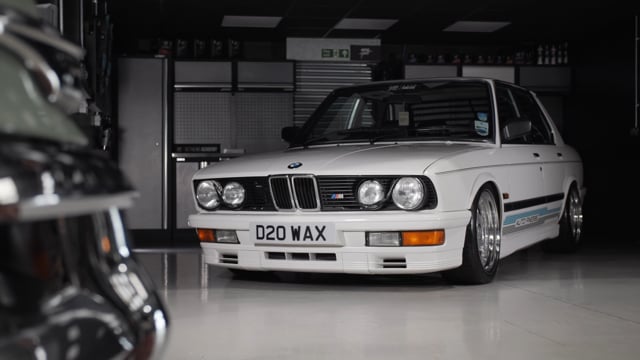 There's not much we can say that hasn't already been said about our M535i over the last couple of years, as many have stated it has to be one of the cleanest examples anywhere on the planet… and it's likely that this statement extends to the BMW marque as a whole, too. There can't be many cleaner Beemers out there at all, right? This one couldn't have been more spotless on the day it left the factory! But, we guess, that's just a testament to the work involved - not least a whole load of intense detailing.
You see, this may well be a modified piece of retro art, as you'd very much expect from here at Auto Finesse, but what's most important is that it's also a project that, from the very start, that needed to stay faithful to the original car. It's all about being respectful to a legend… albeit with a distinct Auto Finesse twist.
The BMW M535i, with all its gloriously hairy-chested M-Technic body panels, is something of an enigma in the car world, and that's exactly why we've ended up with one in our stable. After all, there's a reason the phrase "rarity value' was coined in the first place. And this one is as rare as it is valuable.
This particular variant, (RHD, non-catalyst, European Spec) was only available during 1986 and 1987 and is internally designated as a DC82. Just 712 were built over two years, and trust us when we say, there's not what you'd call a lot of them left!
Powered by the same E30 Inline 6 engine found in the later E23 735i and E24 635CSi, what it did offer though was plenty of grunt… by "80s standards, anyway.
This particular Alpine White example had just about every options box ticked at the factory back in 1987, just 58K on the clock from new, and was sourced from a specialist in Hertford, handily just a few minutes down the road from The Detailing Academy. But, that's about all that was handy, because while modifying cars isn't always easy, respectfully modifying a modern classic such as this can be something of a nightmare. The "80s was way before BMW started to appease tuners wanting to mess with their cars and, like we said, it always takes a whole lot of work to look this pure and simple anyway…
As is traditionally the case, the first thing to get spot-on was the chassis… because we all know that the way a car sits is everything! But, as anyone familiar with old BMWs will tell you, fitting uprated suspension can be a tricky business - performance units actually need to be welded in to locate into the bottom arms. So, the very first job was to order some posh BC Racing coilovers and take them along to A&A Merctech to be welded into place.
At the same time - and rather predictably we might add - we couldn't help getting these fabrication maestros to build a custom stainless-steel exhaust. If there's one thing that can be said about the cat-less E30 engine, it's that a straight-through pipe will make it bark to high heaven!
The simple truth is that, as with many other show and street cars, this project is entirely built around the wheel and tyre combo. The brief was that it had to be super-low on the coilovers, but still remain practical and drivable on ultra-wide, old skool OZ Racing Ventura wheels. There could be no stretched tyre tricks to get the job done either, these legendary rims would be sporting the chunkiest rubber available.
The reality of this concept of course, is hours and hours of arch work from James our MD and his trusty Dremel. And, if we're honest, it's now so good, you could literally use this car as an everyday driver. We've never even heard it scrub, not once! Not only that, but since being put together the BMW has completed thousands of miles all over Europe attending various events. This is a show car standard build for sure, but it's always driven on every outing - usually preceded by a good old-fashioned fight about who gets to jump behind the wheel.
As standard, it has to be said that the M535i exterior is a work of art, the various factory add-ons really add an element of beefiness that doesn't come with the other cars in the "80s 5-Series range.
It could be said that this is where our respect for originality comes in even more on this build because, aside from some black badges, custom graphics and a rear window louvre we (eventually) located in Portugal, we haven't changed a thing. Besides, sitting perfectly over those polished rims, a whole host of body mods would only detract from the beautiful simplicity, wouldn't it?
Instead, we turned our attention to getting the paintwork up to scratch, as we knew that this car needed days of correction to bring it back to better than factory standard. With the help of a few of our top Accredited Detailer Network members we spent a whole 5-days in the bay on a monster detail, perfecting every single surface. It was a full-strip down job, too. Bumpers, trim, wheels, lights, spoilers and the whole interior were painstakingly (and extremely carefully) removed to be detailed separately, and to make sure we could reach the parts that other details cannot. It was a real-world labour of love for sure.
One that clearly makes no sense financially… but you just can't put a price on the pride we feel for this car. At the very least, it's a testament to what a few select mods, and a whole lot of obsessive detailing, can do.
BMW connoisseurs will notice that, aside from the amazing OZ wheels, the only other real decadence is the full leather retrim - a super-plush spec that originally wasn't fitted to this model. Not that the untrained eye would ever notice this fact of course, again this is a touch that looks even better than what came from the factory.
In any case, what with the interior already stripped for a full round of steam cleaning, it's almost as if the seats would always end up at the trimmers. But, make no mistake, it wasn't an easy decision to make, especially in a quest for simple enhanced originality. But, on this occasion, the decision was the right one. The supple black leather lifts the interior to new heights and, as it looks so perfectly OEM, the notion that it could detract an any way is simply unimaginable. It also fits amazingly with the original M-Technic 3-spoke wheel, an OEM touch specific to this model.
Elsewhere inside the mods are limited to a thoroughly modern (albeit retro-designed) Blaupunkt Bremen SQR stereo, this was always no.1 on the list, it's obvious that no other headunit would ever look quite as fitting in this retro cabin.
Suffice to say that all the other areas around the car didn't escape a good working over by our detailers, too. Even though we've opted to leave the engine on this Bavarian Bruiser just how BMW intended, the guys have really gone to town on the cleaning. Only completely broken or perished parts were replaced and everything else was polished, buffed, brushed and cleaned in the most respectful way.
The same can be said for one other unique touch - the optional BMW tool kit located in the boot. This collection of manly trinkets and motoring essentials has received many hours of buffing, and more than a little Mercury Metal Polish to create something of a hand-polished, one-off showpiece. And why not? In a couple of years of driving such a reliable piece of German engineering, we've not had to break the tools out in anger once.
So, that's the story of our E28 BMW, just a couple of weeks back in 2019 to create automotive art… or at the very least restore and refine a German motoring legend. We're confident that you simply won't find a cleaner E28 anywhere in the world, either. And certainly not one that gets driven on a regular basis, come rain or shine. Next time you visit the AF stand at just about any show in the UK or Europe, make sure you poke your head in and have a look for yourself. You'll see why, for many of the Auto Finesse crew, this is their favourite car on the fleet.
EXTERIOR:
Custom arch work, custom graphics, rear window louvre, black M badges.
TUNING:
Custom under bonnet sound deadening, custom straight-through stainless-steel exhaust.
CHASSIS:
8.5 and 10.5x18-inch OZ Ventura alloy wheels, 235/40x18 and 265x35x35 Michelin Pilot Sport 2 tyres, BC Racing coilovers.
INTERIOR:
Full retrim in black leather, Blaupunkt Bremen SQL46 DAB stereo, hand polished OEM option tool kit.