Project Spotlight: Nissan R32 GT-R
---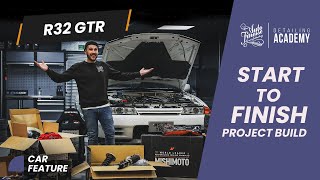 Yep, it has been said that we don't mess about here at Auto Finesse, and that's why, when James our MD decided that it was high time we added a Japanese project to the fleet, all things considered, there could only be one model on his radar.
What was needed was a sweet mix of chic nostalgia, motorsport-derived prowess and all-round legendary status, and this can only come with the sort of car that's just as recognisable if you're 7 or 77 years old - it had to be a true Japanese superstar, and that's only possible with a Skyline badge.
But, perhaps even more important is the fact that it couldn't be any old Nissan Skyline, to make its mark and stand out on the fleet it needed to be the true-blue, Marks & Sparks model; the one that almost evokes tears from even the most hardcore Japanese car nut - Godzilla itself - the R32 GT-R.
We all know that you don't even have to be "into' cars to be familiar with the Skyline, it's that iconic. This is for a good reason, too - the R32 was the first GT-R badged model to hit the streets since the low volume "70s Kenmeri GT-R (C110 Skyline), itself derived from the original 1969 (C10 Skyline) Hakosuka GT-R. But, the "three two' is the one that took the GT-R badge, and the reputation, into serious mass production, and then to the stratosphere. It arguably started the underlying desirability for the GT-R nameplate that continues to this day. In fact, the R32 was probably the most notorious, too, not least because it was unbeatable in Touring Car Racing. In Australia they even had to ban all-wheel-drive and turbocharging just to get them off the track!
But, that's the R32 rundown you can read about in any car magazine, what about procuring such an indisputable icon for ourselves? Well, bizarrely, the biggest problem for us was never finding a base car, we soon had this this prime example sourced from the import experts at Harlow Jap Autos.
Clean and tidy, completely standard (aside from a stainless exhaust), and with less than 60000 miles on the clock, this fresh import was the perfect base for a bout of serious restrained modifying. Although, as is the way these things seem to work out, it escalated rather quickly, and even though it's hard to tell on the outside, now the GT-R is one of the most modified cars on the fleet.
The exterior is pretty much how Nissan intended. The plan for this was always simple - rather like our E28 M535i, changing those classic lines was out of the question. So, as you can see the whole exterior is relatively stock - albeit machine polished to perfection - the only exception being a carbon fibre ducktail spoiler and a couple of tow straps as and when it goes out on track.
The truth is that, underneath the shell is where the real modified magic happens… and trust us when we say that there's plenty of that!
Back to that main problem - and what became a bit of a sticking point - the high-end parts. The thing about modifying a legend, is that it's not always as easy as it looks, when you're building a car of this calibre, the bits and pieces you fit really are as important as the base car itself. For any model like the R32, that's been modified over and over during the last 30-years, you'll find there's a lot of questionable parts out there. In fact, you can get just about anything for one of these, and cutting through to choose the real Gucci bits from the most legendary, and most fitting JDM brands, can be a challenge.
Luckily for us, budget wasn't a problem, the crew was told to draw up a dream list of parts from the likes of HKS, Bride, Apexi, Rays Engineering and Takata - in other words, all the good stuff. The trouble with this though isn't the exorbitant prices, it's more a matter of geography. Starting in the middle of a world-wide pandemic didn't help matters of course, but the real issue is that this isn't Hollywood - there's no such thing as overnight parts from Japan!
The reality is that a few people had to bang their heads together to make it happen, the first being the guys at Co-ordSport who managed to source a set of forged TE-37Vs in the correct colour and spec, and get them to us within' a couple of weeks. Remember that this isn't like modifying a Golf or a BMW, where you can find parts off-the-shelf and have them on your doormat by the next morning. Many of the parts have to be made to order, so, in the old skool Japanese car world, a couple of weeks is lightning-fast stuff.
Now, like many builds, this car is put together entirely around the wheel and super-chunky Toyo R888R tyre combo. This is, as with so many, the only place to start. A full complement of chassis parts soon joined the wheels to ensure not just a suitable drop in altitude, but a huge improvement in handling and braking - this is a "90s car after all.
Simply enormous K-Sport stoppers, BC Racing Coilovers, Hardrace arms - it's all there. Even the standard HICAS was binned and every conceivable item replaced with parts that are as adjustable as possible. These, after an enormous amount of arch fettling, were aligned to perfection. The result is a low slung stance, but with racecar handling. Not a quick and simple job to pull off.
Once the chassis was dialled-in, it was time to up the game and strip the Skyline down even more. A second call to Co-ordSport was soon on the agenda, this time for an HKS front-mount-intercooler and SSQ BOV, along with an Apexi dual filter setup - all relatively simple bolt-on parts… if of course, you don't mind taking the entire front end apart first!
Now, we don't have to tell you that the twin turbo RB26 engine is an icon of the highest order, maybe even as iconic as the GT-R badge itself. It made an appearance in all the Skyline GT-R models from the R32 to R34, before it was ditched for the V6 in the current Nissan GT-R. Infinitely tuneable, even a few bolt-ons make a huge difference to the stock 280bhp - even Nissan engineers from the time will admit that this lump was absolutely built to be tuned!
We had covered all the basics from the induction, to the cooling, to the exhaust and the car was ready for a mapping session to get the ones and zeros in order… but not before a spot of work on that standard interior.
Our attention was turned to the inside where a set of Bride Low Max seats and Takata harnesses would make quite the centrepiece (could it really have been anything else? We think not!).
Keeping the cabin simple, but as high-end as possible, was the only route to take, so the bucket seats are backed up with a Nardi wheel and a custom-made rear seat delete. The rest of the original trim of course, remains in situ. As you can see, this is by no means a stripped-out race car, all the creature comforts have been retained to give more of a Tokyo street car vibe than JTCC car. It may also be of interest to know that everything here, and the rest of the car, is 100% reversible. Even the fibreglass rear seat delete has been built to fit all the original brackets - not a single screw or hole has been drilled into the original car, simply out of respect!
Speaking of creature comforts, you may be surprised to find that, even though this project is extremely performance-focused, it has quite the incredible audio setup, too.
Supplied by Celsus Ice and Kenwood UK, our R32 is equipped with the latest DAB headunit and a quartet of Kicker speakers (in the doors and rear shelf), powered by one of Kicker's super-advanced, and super lightweight, Key amplifiers. If that's not enough, we've even installed a powerful active JL Audio subwoofer to provide the bass… naturally we went "active' so this can be quickly unplugged and removed every time the GT-R hits the circuit. The point is that, once again, it's all suitably high-end. There's a good few grands' worth of audio alone!
The final part of the journey was a little - and by that we actually mean quite a lot - more tuning. You see, the aim of this car has always been to drive it on the road, and while decent power is always a must, reliability and driveability have always been at the forefront. The short of it is that hitting 1000bhp with these cars isn't a problem if you have the cash, slinging on a massive single turbo and winding up the boost is relatively simple. But, having all this and wanting to drive to work on a wet winter morning is another case entirely. There was the small matter of a failed water pump we had to swap out along the way, too.
The best option, we decided, was to ship the car off to Skyline supremos RK Tuning for a few more tweaks, before a major rolling road session at Redline Tuning.
Basically, Ron Kidell and his guys have been building drag and race Skylines - not to mention setting records - for over 30 years. So, there's no better place for a good going over in our mind. It just happens that our "going over' included a whole load of kit from HKS, including everything from uprated turbos and cams, to injectors, pulleys and even the trademark purple cambelt. They also fitted a top-end Link ECU, poised and ready for mapping with all the bells and whistles, like switchable boost levels, anti-lag and launch control.
The final tune comes in at a healthy, and most importantly drivable, 477bhp. Anything more than that and you start to run the risk of melting pistons - the only defence being an engine out job that requires full forging. And, if we're really honest, we were kind of desperate to get it back and driving!
The short of the story is that this stylish little coupe may be decidedly rapid, but you could drive it daily with no problems at all… well, except of course, the fuel bill. And, that's not the end of the road for our Japanese obsession, either. You may have seen the recent addition of our Yaris GR… which we've already started transforming into a track-ready monster. We can see there being plenty more to come from the Far East, too.
But, now you've had a glimpse of our R32 GT-R - and can hopefully see why we're extremely proud of the project - you can also get behind the scenes on the entire build, from start to finish, in the full video here.
Uprated HKS turbos, FMIC, SSQ BOV, racing cams, fuel rail, injectors, pulleys, timing belt and radiator cap, Nitto cam belt cover, Mishimoto alloy radiator and silicone hoses, full Fujitsubo Legalis exhaust and decat, Link G4 ECU with anti-lag and launch control, custom map Apexi Power Intake Kit, carbon fibre slam panel cover
9.5x18-inch Rays Volk TE37 wheels, 255/35x18 Toyo R888R tyres, BC Racing coilovers, K Sport BBK - 8 pot calipers with 356mm floating rotors (front) 4 pot with 330mm rotors (rear), Pagid RS29 pads, Hardrace front and rear camber and toe arms, Japspeed HICAS delete kit, alloy upper strut brace
Bride Low Max bucket seats, Takata Harnesses, Nardi Classic steering wheel and boss, Kode harness bar, custom rear seat delete, Nismo floor mats and shifter, Kenwood KDCBT950DAB headunit, Kicker Key 180.4 micro amplifier, Kicker 6.5-inch coaxial speakers (rear shelf) Kicker 4-inch coaxials speakers in custom adaptors (doors), JL Audio ACP112LG-TW1 12-inch active subwoofer