Project Spotlight: VW Golf Mk2
---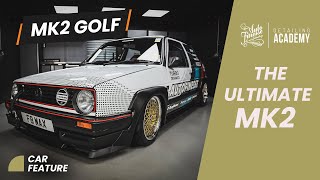 It may be whispered about internally as "the race car' but, since inception four or five years ago, our Mk2 Golf has always been officially monikered "Project Unknown' and you'll find this is pretty apt because no one's ever quite sure exactly what this car is all about. So, let's get this straight from the start, this particular VW is simply a project that flat refuses to be pigeonholed into any particular style.
On its travels around the UK and Europe we've been asked every question going over the years. Is it an off-the-wall motorsport-inspired racer? Is it some sort of stanced show stormer? Or maybe a thoroughbred "80s VAG rarity? And, how about those Bride seats and front-mounted oil cooler - surely there's a huge Japanese, possibly even Bosozuku, influence there, right? The most accurate answer then, is that this car is all of the above, and much, much more besides. Let's just say that the way this thing looks is inspired by a great many things… and that's what makes it more than a little unusual.
Now, for those of us who have been born and bred into any niche of the modified car scene, we also know that there's a certain way that things are done. You get your hands on a car, decide on a few mods, buy said mods, get them fitted, and immediately realise they're nowhere near enough and that you need to buy even more. Sound familiar? It's a story as old as the car itself.
Project Unknown was, as you might expect, nothing like that. It was never going to be a build based anywhere near the realms of normality - for starters we only had 3-weeks before it was due to finished for an appearance at Edition38. And, at that point, we hadn't even begun!
But, not only has this one been a balls-out run from the very beginning, what makes it most unusual isn't that it would always be a full-on, another-level build. It's the fact that the vast majority of parts were already kicking around Auto Finesse HQ way before there was ever a car to bolt them on to
It's easy to see that most of the parts come from the rarer side of the VAG stable, but there's a simple enough explanation for that. You see, what you may or may not know is that we (and by "we' we actually mean our MD, James) have been known to be extreme hoarders when it comes to weird, wonderful and scarce VW parts. So, instead of talking about the 20V turbo lump, wheels or suspension that were already ready to go, let's start with the most "unicorn' part of the entire build - that ultra-rare Kamei X1 bodykit.
Now, let's just say that stumbling across a spanking new X1 is a bit like finding a winning lottery ticket in the ashtray of a car that you've just won on a scratch card that you picked up off of the pavement - it simply doesn't happen. Except of course, this is exactly what happened here, on a trip to Belgium no less. A friend of James' said he had a new old stock kit, still in the box, complete with gaskets and fittings… obviously, the phrase "took his arm off' immediately springs to mind!
The point is though, the legendary, factory-quality "80s kit came back across the Channel destined for a textured paint job and fitting on a suitably sympathetic car. It was much the same story with the rare Voomeran rear wing - very much a case of right place, right time.
Of course, the styling wasn't the only part squirreled away for a rainy day. The AUM engine (taken from a Mk4 Golf GTI) along with a Mk3 Golf TDi gearbox, VR6 Clutch and flywheel, Golf G60 brakes and Bride Low Max Seats were all sitting there ready and willing. All that was needed was the actual car, when along came another lucky find…
The shell was sourced already repainted in Miami Vice White, there were even a substantial amount of nickel-plated and powdercoated chassis parts thrown in. Perhaps best of all, there was no interior or engine fitted to this unfinished project, meaning James and mechanic Matt could get straight on with the fun bit - bolting together the dream project.
Starting with the heart of the operation, the 20V lump was slotted into the expertly smoothed engine bay. But not before being pulled apart for a fully-forged bottom end and the installation of a mahoosive Borg Warner turbo. In fact, without even hearing the roar on start-up it's easy to see that the under-bonnet spec is immense. It's hardly the standard 150bhp nowadays - you can try tripling that!
There's all the Gucci parts here, too, a custom downpipe, an IE inlet manifold, even a Mocal oil cooler hanging out the front - quite the statement, we think you'll agree. It all makes for a very, very fast car. This is probably why we always think of it as our race car, although the engine and chassis spec is actually more advanced than many dedicated track builds.
Speaking of the chassis, too. The choice of air ride is always something of a talking point with this car, but rest assured that it was always part of the vision. Now, while neigh-sayers will always pipe up something about such racy builds running bags (obviously not realising that everyone from NASCAR to WRC cars have utilised air ride over the years) the retort is simple here - it looks amazing, handles like a demon, and we can still get it on a trailer every time we break it. Trust us when we say, when this car goes out, it gets used hard. There's a lot of heavy right feet here at TeamAF!
Much more interesting is the rather special wheels that this air ride tucks right up into the arches. Originally the car was fitted with set of centre-lock Ronal Racing split rims, and while these looked the part, the wider, staggered BBS E50 three-piece rims, shod in their chunky race rubber take both functionality and beauty to a whole new level.
As you'd expect the overall style was developed on the fly during the short 3-weeks. The kit and spoiler was a given from the start of course, but just as unsubtle on the finished article is the race-style wrap. This was, in fact, the very first car to feature the fast-becoming-iconic Auto Finesse race livery, designed here in house and applied by the guys at Identity Wraps. A few have come since then, not least our Twingo, M2 Competition and even our matching recovery truck, but right here we have the original.
Inside Project Unknown you'll find a similar mash up of high-end parts. In essence the interior could be described as "racy' or "functional' but with a touch of the fit and finesse you'd expect from what we do here at AF. There may be a distinct lack of sound deadening and other such creature comforts, but we've finished the job properly with touches as simple as putting the carpet back in. All this is chiefly because it looks better, and who can possibly argue with that? The stripped-out rear is lovingly enclosed in a custom-trimmed build, and an original Mk2 dashboard is in there, too. Albeit after being flocked and adored with a selection of different gauges to indicate what's going on under the bonnet.
But we do realise that it's still difficult to work out if the real centrepiece of the Interior is the CAE shifter or the Bride seats. Then again it could be the slick, deep-dish Nardi Corn Wheel, or the hydraulic pedal box - they all point to the fact that, in the performance stakes, this isn't quite what you expect from a humble 1980's VW Golf.
And, when it comes down to it, that's the whole point. This car presents itself in many different guises, and appears to have gone in many different directions in the build… and all at the same time, too. But, what's most important here is that all these different styles work as one. When you take this car as a whole it's clearly a masterstroke.
It's no wonder then, that this first incarnation is the one that made it to Edition38 that year and to many other events since then. It's also graced the pages of more than a couple of Europe's top car magazines. But, with the exception of the new wheels and a few more engine tweaks (including an even bigger turbo), what's most interesting is that it remains exactly the same, not to mention just as popular, to this day.
Modified Kamei X1 bodykit in textured black, Voomeran rear spoiler, DTM Cup mirrors, custom wrap, Miami Vice White paint
AUM 20V 1.8T, Borg Warner EFR 67558 Turbo with T25 flange, Wossner pistons, Integrated Engineering rods and inlet manifold, modified intake and fuel rail, tubular manifold with T25 flange, custom 3-inch downpipe and Track Slag Exhaust, Mocal front-mounted oil cooler, Mk3 Golf TDi gearbox with Quaife LSD, custom management, VR6 clutch and flywheel, custom intercooler and radiator, Stant cap, ITG cone filter, solid driveshafts, relocated lightweight race battery
16-inch BBS E50 Wheels, VW Golf G60 brake conversion with Goodridge Hoses, hydraulic pedal box and bias valve, Air Lift Performance struts and 3P Management, polybushes, rear strut brace, powdercoated and nickel-plated chassis
Bride Low Max Seats, Nardi Corn Steering Wheel, CAE Shifter, hydraulic pedal box, custom rear seat delete, flocked dash, pillars and roof lining, carbon fibre doorcards, 3P controller flushed into air vent, Zeitronix wide band gauge, additional boost and temperature gauges