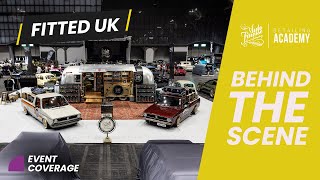 There's no doubt that FittedUK is one of the very best shows in the UK. In fact, being an invitation only event where literally hundreds of applications are painstakingly whittled down to the absolute cream of the crop, it's easy to see why it's one of the most revered events in the whole of Europe. Here you'll find some of the finest projects from all over the world and over 5000 visitors through the doors, not to mention a whole load of some the most coveted awards on the whole show scene.
As one of the biggest supporters of FittedUK over the years, not to mention a main sponsor, we always put on a huge display in the stunning Manchester Central venue and, as you can imagine, this means that logistics is everything. But you know what? Shifting a whole load of our project vehicles - not forgetting our huge AirStream mobile store and a mountain of products - three or four hours up north and getting the whole lot stocked, set up and prepped to perfection is always well worth the effort. You could say that we've got it down to a fine art nowadays, and we even make sure we have a little extra time to help and advise the other owners with cars on display how to get the very best from their detailing and make their vehicles gleam before the doors open. But you already know that, right? That's just what we do.
What's most important though, is how it went on the day. Everything from the TeamAF roll out, to the vehicle prep, to all those awesome cars on display. So, let's take a look at one of our favourite weekends in the life of the AF show team…
As you can see, once again we had an absolute blast up in sunny Manchester, and we have to say that we hope you enjoyed the show half as much as we did. Thanks to the thousands of people who visited our stand, we just know we'll be seeing you again next July. Keep and eye on www.fitteduk.com for updates, and we'll see you there.