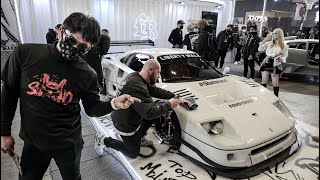 There's no doubt about it, the Tokyo Auto Salon is one of the biggest, and most revered, car shows on the planet. Now in its 40th year, what started out as a relatively small tuning show and trade fair way back in the early "80s has now become a mecca for car culture, not just for modified car buffs, but the mainstream performance fans, too.
The first thing you need to know about this show is that it isn't actually in Tokyo, simply because there's nowhere in the city big enough to house it all. TAS actually takes place about 25-miles away in Chiba City, at the massive Makuhari Messe - one of Japan's biggest convention complexes. Put it this way, it's the same place where they held much of the 2020 Olympics… in 2021. In fact, saying it merely takes place in this famous venue is understating it somewhat, TAS actually takes over, packing out all 13 halls, the carpark and the outdoor arena next door. Nowadays it's not just tuners and parts suppliers that get involved, either. Many of the mainstream car manufacturers are there unveiling concepts, putting on displays from their heritage fleets and trying to decipher the next big thing. It really is a big deal and one of THE places to showcase the finest automotive products to the world. And that's exactly why this year TeamAF was there, pride of place, to get in on the action.
You see, nowadays a huge part of what we do is supporting our remote team members around the world, whether that's through staff training sessions at home or abroad, product updates and development, or simply traveling far and wide to ensure that everyone, no matter where, gets the help they need from our UK-base. We may have started 20-odd-years ago as a solely British operation, but in the past decade or so we've expanded world-wide with a whole team of distributors spread right across the globe, all a part of TeamAF and the wider the Auto Finesse Family.
Auto Finesse Japan are one of our biggest remote teams and a real detailing powerhouse over in Asia. So, when Namito-san and his crew they said they like to exhibit at TAS for 2023, it goes without saying that our top team were on the next plane to Tokyo to offer their support. As you might have gathered too, over the years we've built up all the experience we need to help anyone when it comes to putting on a top show display…
Aside from helping set up the display and stock it to the gills with all the products shipped from our factory in the UK, there was one other area where our UK team could lend a hand, and even offer a little staff training along the way. This involved going right back to our roots and doing what we do best by getting stuck into the prep and final finishing touches on all the show cars on the stand. Suffice to say that we don't just offer the products we develop for sale, we can't wait to use them, too. It's no surprise that TeamAF Japan had about the most supremely detailed cars on display at the whole show.
But, it wasn't just the AF stand that was in need of a little finesse. After building one of our very own in the UK this year - our Liberty Walk Super Silhouette S15 - there was only one team trusted to perfect the finer details on two of the most anticipated builds of the entire event. As you may have seen all over social media in the past few months, Kato-san and his crew at Liberty Walk Japan have been busy in their workshop creating a couple of absolute jaw-droppers to unveil at TAS. These include the very first Liberty Walk Super Silhouette Works FD RX-7 and, arguably even more amazing than that, the LB-Works Ferrari F40. But then again, these guys are epic car builders not master detailers, so when they asked if the team would mind making sure that these two monsters were show-ready for their debut at biggest event in Asia, we were only too happy to make our way over to their display with a Deluxe Holdall full of goodies…
And, not counting the ongoing detailing maintenance and live demonstrations going on over the three days, all this so far was on day one with the doors yet to open! As you can imagine, it all went a little crazy after that point, with over 300'000 visitors cramming through the doors. Let's just say that again so you don't think it's a typo - over three hundred thousand people! Yes, TAS was a little packed to say the least.
In amongst the blur of people, products and all-round excitement though, we did manage to have a good look around pondering everything from legendary tuner royalty and supercar exotica to stunning racecars and the rarest Japanese classics. And, while we can't possibly feature them all, here's just a few of our favourite cars of the event, and a whole lot more…
So as you can see the show wash hectic, inspiring and amazing in equal measure. Thanks to everyone who supported our guys at Auto Finesse Japan by coming along to the stand, and if you're in town next January, be sure to get along to the next one - keep an eye on the Official TAS Site for updates, and we'll see you there. 
Oh, and don't go thinking that TAS was the end of the adventure for TeamAF in Japan this year. When in Rome (or, er, Tokyo) it goes without saying that we just had to sign off a few of our all-time bucket-list items, too. Check out our articles on our visit to the famous Daikoku Futo Parking Area in Yokohama Port, and a rather exclusive RWB Porsche meet at the ancient Kashiwa Shine.