Team AF Support The NFS Unbound Official Launch
---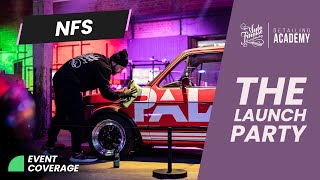 It's hard to believe we know, but the mighty Need For Speed gaming franchise has kept our fingers flapping on those console controllers for well over 30-years now, they've even managed to spawn their own Hollywood movie and one of our favourite car culture sites on the entire interweb - the automotive powerhouse that is Speedhunters. In fact, it seems that there's not a true petrol head out there who hasn't had at least some experience with their many games and other ventures since 1992, if not become a hardcore fan of the brand. Somewhere along the way we certainly have, and when they reached out to us this month ask if we could support them with our detailing skills for the official launch of their 25th game - NFS Unbound - we were more than happy to supply the products and the knowledge to help accomplish the desired impact for the world's media.
As it turns out, the launch party was rather nothing short of epic, too. Held in a central London location that was just as cool as you'd expect for such a massive franchise, this one was all about cool cars, cool gear, cool music and creating just the right atmosphere to get the feel for one of their best offerings to date. With all this on laid on to enjoy, suffice to say that we packed a whole host of our mobile detailing essentials into a Deluxe Holdall and got over there proto…
And obviously, it goes almost without saying that we came for the detailing but we stayed for the party. But most of all we got to try out this awesome new game for ourselves... the ultimate win win situation for us!
So, there you have it, the official launch is over and, through our rather bleary eyes, we can now say that Need For Speed Unbound is available for download. To check out the game for yourself head over to the official site NFS Unbound.