The New Hybrid Wax Is Here
---
Do you prefer the finish of wax, but need the durability of a sealant?! Well, with the Auto Finesse FusionHybrid Car Wax; you can have both.
When it comes to car polishing products, our Fusion Hybrid Car Wax is the ultimate combo. It gives the finish of the natural Carnauba wax while providing the level of protection that a sealant offers.
In brief, let us explain the differences between waxes and sealants. Waxes are more a paste consistency. Our waxes are made with natural Carnauba wax from the Brazilian palm tree. Protection with a wax generally lasts up to three months under UK climate conditions - this is subject to use, of course, the durability of carnauba wax is pretty low under UK conditions. Paint sealants are a liquid and are generally applied using a foam applicator. They tend to contain more man-made ingredients and synthetic polymers, meaning they last longer than natural Carnauba wax products, with some lasting up to six months. It's also easier to apply than wax, due to its liquid consistency, but doesn't tend to add the same depth of shine as wax does. Our Fusion Hybrid Wax combines the best of both of these products. Plus, some people don't really like the high-gloss effect of a sealant.
The best sort of paints for wax application are mid-tones and darker paints. Namely because these have better reflective properties than those of light paint colours. Light metallic and solid whites, for example, are usually better off being treated with sealants as those are generally more reflective than waxes. However, you literally get the best of both worlds with our Hybrid Fusion wax.
To get the best results, make sure the vehicle is clean before applying any wax protection! Firstly, rub your hand across each panel to check for bonded contamination. If the paint feels uneven, then use a clay bar across every panel of the paint before sealing or adding protection. If paintwork hasn't been polished in the last 6-12 months, it's wise to prep the surface with a pre-wax cleanser. Half turn a foam applicator pad in the wax tin, apply small even strokes, ensuring to overlap each one. Wax does go a long way - one turn of the pot should do a panel. When one panel is complete, move onto the next, then buff off the previous and so on. If the wax has dried on the paint (if it's been left on too long, or it's too warm), use our Finale quick detailer to help remove the excess without rubbing.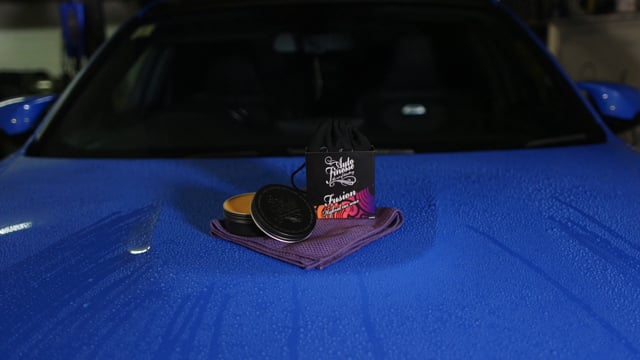 Auto Finesse Fusion Wax is super durable and will get stronger the more layers you add. There is no limit to how many layers of wax you can put on, but we advise at least two. It is also an idea to increase the number through the harsher winter months.
Wait at least three hours between wax layers.

Features a Carnauba and polymer blend for added protection.

Comes in a 150g embossed tin, complete with storage pouch.

Do not wax the vehicle if temperature is below 6-degrees Celsius, or above 35-degrees Celsius.

Waxing in direct sunlight, or conditions of high humidity can lead to over or under-curing of the product before removal.
Fusion
Fusion Hybrid car wax is a perfectly balanced blend of Brazilian T1-Grade carnauba and advanced synthetic polymers desig... See product details More