Walking the Walk: Nissan S15 Ep3
---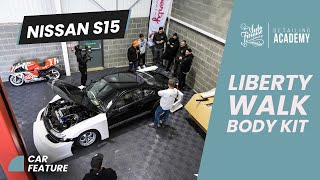 As we said from the very start, the styling on our Nissan S15 was the only part of the car that wasn't love at first sight… those screw-on over fenders just have to go for starters! But, from the day this car landed we've also had a plan to renew the exterior and create something even more bonkers than they managed when this was a drag demo car for Endless in Japan.
So, while our crazy cage from SW Motorsports (see more of that in Caging The Beast: Nissan S15 Ep2) has already got us talking the talk, how exactly are we going to walk the walk? Well, as it turns out this time, we're very much walking the Liberty Walk, and taking our Silvia up to their European HQ in Northampton to get the very first look at our new, and rather full on, widebody…
So, why Liberty Walk? Well, there's no denying that they've been the hottest name in car builds - Japanese or otherwise - over the past few years. Or that this legendary firm from the Japanese city of Nagoya design and manufacture some of the maddest kits ever conceived. But, it's even more than that to us, these guys draw on the past to create designs that are not only cool, but have an underlying racing pedigree. In other words, they're the only place where we'll find styling close to doing justice to the 900-odd horsepower under the bonnet of our S15.
Besides inspiration is, as they say, where you find it. And on various trips up to Liberty Walk Europe over the past year or so, a picture on the wall of one of their latest project cars in Japan hasn't gone unnoticed by James, the boss of all things Auto Finesse. In fact, he was so enamoured with the look of the thing, that the rest of us quickly realised the reality of the situation - that was going to be that, and we'd soon be building Europe's very first Liberty Walk Super Silhouette S15.
Fast forward to today and it's obvious that James ordered the custom-made kit a good few weeks ago because, quite frankly, you don't just buy an umpteen-part monster of a kit like this straight off-the-shelf. You can't because these are made, numbered and certificated for each specific car. That said, once the order was in, they certainly didn't hang around, quickly manufacturing all the new panels in Japan, before air freighting the whole lot here, just in time for the reveal. To make sure everything went as smoothly as possible too, they also flew in the right-hand man of founder and kit designer, Wataru Kato - Liberty Walk's CEO Toshiro Nishio. Offering that infinitely personal touch that they're famous for, Toshi came over to the UK both to discuss the colour scheme and how this custom kit all goes together. Like all the highest-end Japanese parts, it's not like these things come with in-depth fitting instructions… not that we'd be able to read them anyway.
But, suffice to say that, when we got to finally unwrap the two mammoth boxes it was like everyone's Christmas come early. Although even we were surprised at just how many carefully crafted parts are needed to make it all come together. From then all that remained was to roll in the Silvia and make a plan for fitting this monster jigsaw puzzle.
What's this particular design all about though? Well, contra to popular belief it isn't inspired by the world-famous Super Silhouette R34 Skyline that Liberty Walk launched a few years ago. No, this work of art has its own unique racing pedigree because it's actually based on the Nichira Silvia Group 5 Race Car from the early 1980s, piloted by Japanese legend Kazuyoshi Hoshino. Seriously, get yourself on Google for that one - this 570bhp (N/A!) old skool S12 is an epic piece of motorsport history, in fact, it's nearly 40-years old.
What we're looking at with our kit is a modern reworking for the last of the great S-Body Nissans, so it has to be said that we got all the heritage we could ever desire.
So that's our brand new kit unveiled, and the last part of the plan was to pack the whole lot up, get the car back on our recovery truck and take it all around the corner to paint maestros, Colour Kraft, ready for the first lick of the new colour scheme. If you're wondering what that will be… well, so are we if we're honest, but all will be finalised and revealed in Episode 4 of our vlog. In the meantime, there's still plenty to do while all the details are being pondered, including cutting and refitting the dashboard, sorting out the new interior and ordering yet more top-end parts… stay tuned.