World Tour: Ultrace Poland
---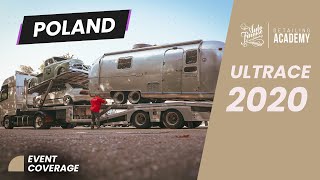 Ultrace - the show formerly known as Raceism - is not only regarded as one of the coolest Eastern European events, this Polish behemoth is one of the most coveted stance-based shows on the planet. It goes without saying then, that we just had to be there… and, coupled with the fact that we don't do anything small ourselves, we knew we'd have something of a monster on our hands.
This year saw much more than a mere name change, too. A shift in venue to the enormous Miedzynarodowe Centrum Kongresowe in Katowice, meant that this instalment would be bigger and better than ever. And, in that case, we thought, what better place to launch our very special new pop-up shop? The world's first bagged Airstream Land Yacht.
We've custom-built this huge trailer to act as a base for all sorts of shows and exhibitions over the next few seasons, and even more specifically to offer the trademark Auto Finesse retail experience, with stacks of our essential detailing products and professional detailers on hand to offer help and advice. This time we'd even had our Simon to act as translator, clearly a man of many talents. But, of course, there was one small detail before we could do any of that - first we'd have to take the Airstream 983-miles across Europe.
But, then again, we're all about the road trip here at Auto Finesse, and being a key event sponsor, we weren't going to do it by halves. We quickly decided that a full complement of vehicles was in order so, in addition to the Airstream, our 1954 Chevy Stepside,BMW M535i, MS-RT Transit and a wagon loaded to the hilt with our detailing products would also be making the trip. To prevent this becoming any more of a logistical nightmare than it already was, using a full-on, pan-European transporter for our hero fleet was deemed the ultimate in headache killers.
Starting at the Detailing Academy, 3-days before the Ultrace doors opened, we loaded the huge transporter with the Pickup and BMW, before James carefully inched-on the Airstream, which could only be heaved on backwards with our heavily modified Transit.
What came next was far less nerve wrecking for our crew of course - leaving the whole lot with Michael, the brave soul who'd have to pilot his artic across a whole continent, with the best part of half a million quid on the back.
As you can imagine the two-day journey was a mixture of excitement and anticipation. Boarding the train for the Euro Tunnel, charging across France, Belgium and the Netherlands, and eventually taking an overnight stop in the rather scenic German town of Kamen. Only to get up bright and early to do it all over again, arriving in Katowice late the following evening.
With nearly 1000-miles of blurry (albeit beautiful) scenery completed, the next morning brought one of our favourite showtime challenges - setting up our stand to the exacting Auto Finesse standards that you've come to expect. But first of course, we'd have to unload and detail the display vehicles, transfer the substantial amount of products into the arena and, only then could we roll up and stock the slammed "Stream. We have to say that when all that was done, even we were a little surprised. After all, we think our Airstream is pretty damn good looking when it's empty, so nothing could quite prepare us for just how amazing it looked when fully setup in the main exhibition hall of the MCK.
Anyway, what with that and the cars rolled into place, we were soon ready for the onslaught of what is unquestionably Poland's finest car show.
And, as for what actually went on at the event? Well, here's just a little taster. Be sure to check out the full video at the top of the page for the journey and all of the highlights along the way…