Detailing a 600bhp JDM Monster with TeamAF Japan
---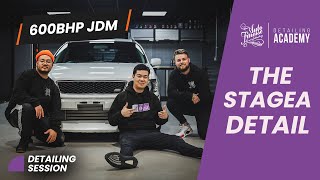 You'll already know that Auto Finesse is very much a global brand, with a large number of official distributors around the world, feeding accredited dealers in just about every country on the planet. Basically speaking, anywhere you can actually drive a vehicle, you can rest assured that you can detail it using our range of home-grown detailing products.
All this is one of the reasons why we take world-wide education so seriously, so much so that, after launching our flagship Detailing Academy in the UK, we've also been busy expanding our international Academy network further afield, opening new centres in other territories, including Europe and Asia.
The most recent Auto Finesse Detailing Academy to open its doors is in Tokyo, Japan. And recently both the head detailer, Taiki Ashikawa, and main Japanese distributor, Namito Sato, payed our UK Academy a visit.
The reason for traveling all this way is simple, it's all about getting the absolute most from our detailing products, something that's always close to our hearts. We develop our range specifically to make sure that almost anyone can use each item effectively. But, this doesn't mean that just anyone can teach the Auto Finesse philosophy or advise the professionals on the best products to use. This is why all Academy detailers (along with main distributors) have to undergo a rigorous training programme from our UK Detailing Academy team. This is how we ensure that our customers get the same level of service, no matter where they are. And, all this is why the guys from Auto Finesse Japan came over for a three-day detail on a rather legendary car…
Some may think that we drafted in this JDM Nissan to make the guys feel a bit more at home. In fact, you may imagine that there's a wagon just like this Stagea parked on every street corner in downtown Tokyo. But, as it turns out, our Japanese colleges had never seen one of these in the flesh, either... let alone detailed one.
What's more, this recently imported example is no ordinary family estate. Even before it was tuned to over 600bhp with quite the catalogue of high-end aftermarket accessories, this is a rare Autech-built Stagea 260RS - the fabled "Skyline GT-R Estate'. From the factory these came with the twin turbocharged, RB26 engine straight out of the R33 GT-R, along with the ATESSA all-wheel drive system, uprated suspension, brakes and all sorts of unique styling parts. It's a rare car no matter what side of the Pacific Ocean you live on, and the JDM answer to the super estate, a full 6-years before Audi launched the RS6 Avant.
In any case, this well-used and hard driven example, was the perfect car for a full round of international training.
For the training programme this car would be treated to the majority of products in the range, going right through the wash stages, on to full paint correction, and culminating in the protection and finishing stages. With most of the product demonstrations the stages are exactly the same as as they would be on any other dirty car - we'd be starting with the wheels, carrying out a thorough pre-wash, contact wash and three-stage decon before cutting and refining paint. Although, that's not to say that there wasn't a couple of more specialist bits to watch out for…
It goes without saying that this one has a heavily modified engine, and with cars like this extra care and attention has to be taken when cleaning the bay. In our case this started with bagging up the open filters to protect them from the pressure washer, along with protecting some exposed electrics.
Other than that, the normal rules apply, the whole bay was cleaned by brushing in a combination of Verso All Purpose Cleaner and Eradicate Engine Degreaser. It was then rinsed and treated to a healthy dose of Dressle All Purpose Dressing.
Cutting and polishing paint on imports is notoriously difficult. A lot of this is due to unknown history, many have been repainted or touched up following repairs… these do tend to bounce around a bit on the boat!
Second, the paint on many Japanese cars in known to be extremely soft, so a good detailer will have to be able to adapt to each situation to overcome any problems and get uniform levels of cut and gloss. The short of it is that no two cars are completely alike.
After masking up any areas that need protection from the pads, it's important to check each panel individually. This not only needs to be carried out with a light to identify the swirls and defects that need to be eradicated, but it's best to use a paint gauge to make sure there's enough paint to actually polish.
Once checked over, cutting and refining could commence. We used a multi-stage correction process tailored to each panel, testing with multiple products along the way. Again, this is the only way to get everything uniform over the whole car.
A combination of One-Step All in One Single Stage Compound and the three steps of our Revitalise System were utilised to make the paintwork as flawless as possible.
Of course, the polishing didn't just extend to the paintwork, either. Another thing Japanese imports are renowned for (along with plenty of other cars from the "80s and "90s) is dull, faded glass. In our case a spot of Vison Glass Polish quickly brought the windows back to life, decontaminating the surfaces, removing stains and buffing out light scratches. This simple process always makes a huge difference.
To install a nice deep gloss, we decided that one of our signature hard waxes was the way to go on this detail. More specifically we chose Soul, a highly reflective wax developed to work amazingly with light colours and pearlescent paint. Before we could apply our Soul though, we used Rejuvenate Paintwork Cleanser to further prepare the surface. After working in on microfibre pads, and then buffing off, we had paintwork free of any leftover residues that was perfect for the wax to adhere to.
The cockpit was in good shape for a car of this age, especially one used so enthusiastically, but it still pretty filthy and could definitely benefit from a deep clean. Being a large car too, the access was pretty decent, but we decided to remove the aftermarket seats to make the process easier. First the seats were vacuumed and treated to a spritz of Total Interior Cleaner. Working this in with an Upholstery Brush quickly freshened up the fabric on these classic Recaros.
Carpets are typically more hardwearing, so after a thorough vacuum, we scrubbed in a 1:10 dilution of Verso All Purpose Cleaner to remove any deep-down dirt and staining.
As you'd expect, the original floor mats were far more heavily soiled than the carpets, so a heaver dilution of Verso was needed to penetrate and break down the grime. We also used a pressure washer to deep clean them further, finishing up with a wat vac to suck out the last of the dirt and water.
After utilising Total, Wipe Out Interior Disinfectant and Spritz Interior Detailer to deep clean and sanitise the dashboard, door cards and trim, we were on to the final finishing stages.
The last job on the interior is always using Crystal Glass Cleaner, to remove any fingerprints, residues and overspray from other products on the windows. As you can see there's a lot of windows on a Stagea, and they're all pretty big, too. But Crystal still tackles the job in seconds with just a spritz and a wipe. With the seats bolted back in place, that was the Interior complete. Easy.
There wasn't a huge amount of black plastic trim on this particular wagon, but what there was certainly showed the signs of ageing and effects of UV radiation. The upper front grille and roof rails were extremely faded, but that's nothing that Revive Trim Dressing couldn't handle. Our silicone-based dressing soon had them brought back to a deep dark sheen, while nourishing and protecting the trim for the future.
The final finishing touch was, as always, Satin Tyre Dressing on the rubber. We built up a couple of layers of this revolutionary progressive-finish product for some extra wet-look shine.
As with any car that's being detailed for a few days, it's almost inevitable that the Stagea would pick up some light dust and fingerprints. So, last of all, a wipe down with Finale Quick Detailer is always essential before the car goes out. Make sure you're never without a bottle of this cherry-scented, master multi-tasker in your detailers kit bag!
That's the whole detail complete, along with a large part of the product training. We'd like to thank the guys at Auto Finesse Japan for making the trip, and helping us get these incredible results. You can follow and what they're up to next on @autofinessejapan