Treating a BMW M2 Competition Track Day Hero To Caramics Protection
---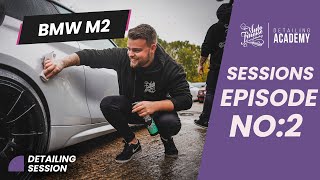 No matter the department, we all love detailing here at Auto Finesse, it's not just a job, it's a lifestyle!
So, our sessions videos give us the chance to get a wider crew together at the Auto Finesse Detailing Academy, for one big detail. They also give you the chance to see what goes on behind the scenes…
Our heavily modified M2 Competition was an excellent choice for this instalment of the Sessions Series, simply because it has to stand up to the kind of rigours that any daily driver would… although admittedly, this one does it on something of a grander scale.
You see, this is our very own track weapon, meaning that it hits the tarmac harder and faster than the vast majority out there. And, having recently made the 1000-odd-mile round trip to Germany's iconic Nürburgring, it was clear that more than a quick maintenance wash would be in order to get it back to Auto Finesse standards.
But, this is much more that detailing a car after a serious European road trip. It almost goes without saying that it completed quite a few laps of the notorious Green Hell in between, too. And, it's exactly this kind of driving on the limit that exponentially increases the exposure to the harshest of contamination.
Although (as in all of our Sessions videos) the BMW would be treated to a full detail, the three main stages to highlight here are the pre-wash decontamination and application of final protection.
As with any vehicle, what it has been used for, and will be used for in the future, is the basis for what the most important processes will be when detailing. In other words, the care is always tailored to the job in hand.
In the case of this particular Bavarian bruiser both the journey (in, it has to be said, extremely bad weather) and the heavy metal fallout and other contaminants from circuit driving are the key concerns.
We've said it a thousand times but, an effective pre-wash really is the only way to achieve a swirl free finish. By avoiding making physical contact with grime (and dragging it all across your paintwork) when pre-washing you're essentially cutting down on potential damage. With that in mind, it makes sense that this process is always important - and all the more so on a really dirty car that has travelled a good few miles.
This is why (after cleaning the wheels - always, always start with the wheels and arches) it's important to utilise a pre-wash cleaner, like Citrus Power or Dynamite, to chemically dissolve grime, lifting it away from the surface and allowing it to be rinsed away.
It's also worth noting that our pre-wash cleaners are safe for use all over the vehicle and not just limited to use on bottom halves. Particularly important on a detail like this one.
The last part of the pre-wash is always using Avalanche Snow Foam for a double dose of chemical and physical grime removal. Put simply, the foam will soak into the awkward places that nothing else can reach, allowing even more dirt to be rinsed away without contact washing. That said, Avalanche can also be agitated with a soft brush (we'd recommend our FeatherTip brushes) and worked into other awkward areas like intricate grilles, around door handles and along weather strips, for more physical cleaning power before rinsing.
From there we can carry out the usual two bucket contact wash, before moving on to full decontamination.
Decontamination would be crucial on this car and, while we'd always say that using a 3-stage decontamination process is important before carrying out any paint correction, this time around it has as much to do with the fact that a hard driven track car will always pick up significantly more contaminants.
In most cases the most harmful contaminants will come in two forms - ingrained metal particles from hot brake dust (on the tarmac and in the air) which is increased by hard and heavy braking on the circuit. And rubber contaminants flying around from sticky tyres which instantly attaches to paintwork.
In both cases we have the solution. Iron Out Contaminant Remover is designed to dissolve metal particles without harming paintwork. This chemical rection turns ferrous metal blood red, suspending it in the liquid, away from the paint surface, ready to be rinsed away. In a similar way, the complex formulation of solvents in ObliTARate Tar and Glue Remover will dissolve sticky residues.
Both products are can be applied and lightly agitated with a microfibre cloth or pad to gain a little extra bite, before being rinsed away. Following a further wash in these areas (to neutralise any left-over product) and the vehicle will now be ready for the final stage in your decon.
The last stage of decontamination is using Glide Clay Lube, along with a clay bar or clay pad clay to pull out any other ingrained contaminants, a process that takes far less time than many think and will leave your paintwork silky smooth.
For more information on paint decontamination, you can read our full guide here.
Being one of our cars, a lot of heavy paint correction wasn't necessary this time around. Aside from a little wash marring and light scratches the bodywork was in far better shape than you'd expect from car that had recently been flat out around one of the world's most menacing circuits. The good news is that machining with Tripple All Purpose Polish would remove these defects quickly and effectively, so we could move on to the crucial protection stages.
In terms of durability and protection nothing can touch a ceramic coating, and that's particularly important for a car like this that will definitely see more than its fair share of action over the winter months.
This is what makes our Si02-based Caramics range perfect for the job. Unlike a wax which physically bonds to the surface, Caramics chemically bonds to become a part of the lacquer layer, installing a barrier of super-hard, ceramic protection from the elements and any other harsh contaminants likely to come into contact with a car that spends a great deal of time on the track. If these cant stick to the surface, they can't become ingrained, this not only protects but makes cleaning far easier the next time around.
The best bit is that our system is also simple and easy to apply. For paintwork and glass we have special wipes for application, and full protection for wheels (and interior coatings) is a simple spray and wipe affair.
Caramics keeps your car looking better for longer, it's a simple as that. Here's the results after the final coating…
It goes without saying that there were many other aspects to this particular detail, not least using a combination of Total Interior Cleaner, Spritz Interior Detailer and Hide Leather Cleanser (along with Hide Conditioner) on the inside, cleaning the interior windows with Crystal Glass Cleaner, and a whole lot more. All these extras can be seen in the full video at the top of the page.