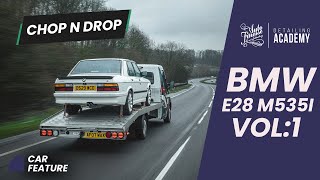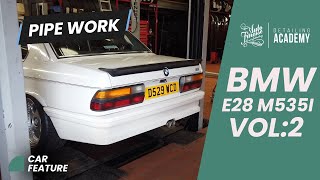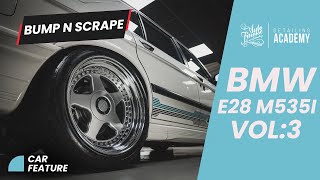 This 1987 BMW E28 535i is the latest vehicle to join the AF fleet and, as you'll probably already have learned from our previous builds, we don't do anything by halves. She's already been treated to a whole new stanced set-up and wheels, along with a new twin exhaust.
Purchased from Old Colonel Cars, in Hertfordshire, at the end of last year, it's been nonstop for the 59,000-mile E28. Upon collection, it was taken straight to A&A Merctech Ltd for a fresh set of coilover suspension and wheels. Sounds simple, right? Well, as many of you ofay with the stance world will know, it wasn't. There was an absolute mountain of arch rolling and flaring done, especially to the rear arches, to accommodate the width of the new wheels. A fresh set of 18-inch OZ Futura split wheels with a 9j width to the front and 11j out back, along with some BC Racing Coilovers were ready to go. Each wheel is coated in some seriously fancy rubber; Michelin Pilot Sport Cup 2s, to be exact. In order to achieve the 11j rear fitment, polybushed rear arms were cambered via a set of Powerflex eccentric hubs with offset centre holes, helping to pull the tops of the wheels in. The shocks were welded in, which meant cutting the strut and welding the new strut to the hub. It's safe to say that there's been a lot of work involved in getting that ride height just right!
Once the wheels and stance had been taken care of, it was time to take the car over to Rtec Auto Design, in St Albans, for a new exhaust. We'd previously tried to source an original, with no luck. Having contacted BMW themselves to be told that there was a two-year wait on the original replacement part. So the car was taken to Rtec Auto Design to have a new one forged with a view of producing something as closely resembling the original as possible.
Having had just four previous owners, coupled with its low mileage, this is a lovely car and drives very well indeed. Especially now that the suspension set-up has been overhauled. It's now built to exactly how head honcho James Batty envisaged it, complete with the original awesome rear-window Louver.
Despite the BMW already having undergone some serious work, it has yet to be treated to the Auto Finesse treatment so keep your eyes peeled for the drop of the full detail video coming soon!