Detailing Academy Roadshow – The Studio Portsmouth
---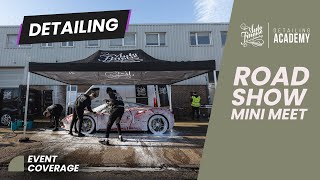 Even before we opened the Auto Finesse Detailing Academy 3-years ago, the very first and still the biggest facility of its kind in Europe, we've always been a brand that's all about the education. You see, detailing in the UK has come on in leaps and bounds over the past couple of decades and, since inception way back in 1999, Auto Finesse has strived to teach enthusiasts about the best techniques, processes and the correct use of any detailing and valeting products… including of course our own range that covers every stage from pre-washing and protection to machine polishing and interior deep cleaning.
Nowadays of course, we use the Detailing Academy to teach professional detailers on our range of specialist training courses, and it has to be said that our instructors (not to mention the online team, via this very blog) also like nothing more than to help guide enthusiasts to take their detailing to the next level, and often way beyond.
But, you know what? Sometimes it's just nice to get out, isn't it? So, that's where the Detailing Academy Roadshow comes in…
It's not just that we get to reach a whole new group of people around the country, we really do love nothing more than giving live demonstrations to help out anyone interested in detailing. So, when the guys at The Studio in Portsmouth asked if we'd like to set up a bit of an impromptu demo day, and to host a pre-show season mini meet to break up the monotony of the British winter, we were more than happy to oblige.
As well as bringing our instructors, we also loaded up our fully-equipped detailing vans, just to let anyone who's interested have a go at the most involved detailing processes like paint correction. Besides, where could possibly be better to highlight every little defect when polishing and compounding than one of the UK's biggest photo studios? They don't get much whiter, or better lit, than this place, that's for sure!
After setting up early in the morning - and having a good mooch around all the jaw dropping cars turning up (that almost goes without saying) - we got straight down to business with our top detailing demos.
Over the course of the morning our goal was to get people to follow along with a step-by-step demonstration on how to safely wash any vehicle, taking onlookers through each stage from specialist wheel cleaning and safe pre-wash techniques, to contact washing and drying. Suffice to say that there was more than a couple of volunteers when it came to lending us a donor car, too. But we already had something rather special in mind. After all, if you can perform the perfect swirl-free wash on a top-spec Ferrari 588 that happens to be packing more carbon than your average pencil factory, you can handle just about anything else on the road, right? The onlookers agreed - they may have came over for the car, but they certainly stayed for the detailing.
In the afternoon we'd take our instructors inside to concentrate on paint correction and wet sanding, giving everyone a free master class in using a variety of machines, including our own DPX and MPX Dual Action Polishers. The key thing here is that we could let anyone go to town safely on our disposable demo bonnets, even carrying out unique demonstrations on what not to, showing all the common mistakes like burning through paint using a rotary polisher, and the damage that can be caused by using the edge of pads or dirty cloths. Then we could demonstrate the good stuff, like removing swirl marks and scratches, along with restoring, enhancing and refining paintwork with a variety of pads and compounds.
And, as for the rest of the day? Well, as you can imagine, that was all about the entertaining collection of cars that came along to visit. There was well over 100 in total, and among others, Portsmouth certainly seems to love its Japanese street weapons! But obviously we can't show them all here, so check out our gallery for just a few of our favourites…
Can there be a better day out for petrol heads in Portsmouth? We think not. So, thanks to the guys at The Studio for having us and be sure to check them out for the other events they have coming up in 2022. In the meantime too, keep an eye on our social media channels - Instagram and Facebook - to find out when the Auto Finesse Academy Roadshow will be coming to a venue near you.