Hydrophobic Rinse Aid: Aqua Coat
---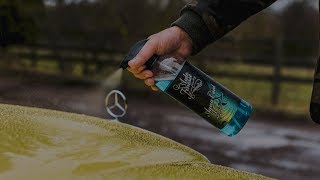 Spring is here, which means that your seasonal detail should soon be on the cards. That's where the Auto Finesse Aqua Coat Hydrophobic Rinse Aid comes in.
Available in 1-litre and 5-litre measurements, this Hydrophobic Rinse Aid has been designed as an extra step in the car detailing process, homing in on water repellency and long-lasting results. The long-lasting results aren't a chore to get, either. Aqua coat is super quick and easy to apply and features enhanced water beading technology meaning every exterior aspect of your car will repel water as soon as it hits it. Used at wash stage, Aqua Coat adds a protective layer of Si02 coating to all exterior surfaces right at the wash stage. A layer that provides up to 2-3 months' worth of durability. And if all that wasn't enough, its Bubblegum fragrance smells amazing!
Aqua Coat
Developed to enhance water beading, protection and gloss quickly and efficiently during the wash stage, this advanced SiO2-based hydrophobic rinse aid has been... See product details More
Applying Aqua Coat couldn't be simpler; snow foam and wash your car as you would normally. Once the Car Shampoo has been fully rinsed off and you're sure there's no traces left, apply a light mist of Aqua Coat to the entire vehicle; plastics, brightwork, paintwork, rubbers, glass, you name it, make sure it's fully covered in Aqua Coat. The light mist sprays well, so it shouldn't take long for the entire vehicle to be covered. You do not need a lot of product, though, the next stage of rinsing it off will spread the product across the entire vehicle - usually a light mist across the majority of the vehicle will equate to the entire vehicle being coated when the solution is rinsed from the vehicle.
Once you've rinsed the vehicle thoroughly (starting at the top and working your way down) and ensured all traces of the loose product has been rinsed away. You should be able to see immediately the instant effects of Aqua Coat's hydrophobic characteristics. Finish off by drying all surfaces off using a microfibre drying towel - ensure to do this immediately to avoid the product quick drying and leaving streaks or spotting.
Auto Finesse Aqua Coat is available in 1- and 5-litre measurements and is priced at £16.95 and £54.95, respectively.
Always start with a wet vehicle - do not apply Aqua Coat to a dry surface.If spotting or streaking occurs, immediately apply a car polish such as our Tripple all-in-one and buff off to remove.Do not allow Aqua Coat to dry on the vehicle (Aqua Coat does not require curing time). Do not apply to a hot car or in direct sunlight. Do not over apply (less is more).