Letting it shine with Take That's Howard Donald
---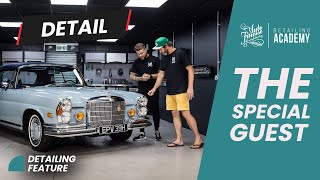 This bona fide international pop star may have sold a gazillion records, have a face that's been plastered on bedroom walls all over the world, and be sporting a massive trophy cabinet (that may even be bigger than ours) crammed full of top musical accolades, but you're never too big to learn some new skills in the art of detailing, right? Nope, and that's exactly how we ended up with Take That's Howard Donald and his old skool Mercedes at the Auto Finesse Detailing Academy this month.
And, does that mean that we had the chance roll out the red carpet for the full VIP package? Of course it did, but then again never forget that it doesn't matter who you are - you always get the celebrity treatment here at the Detailing Academy…
Now, it's well documented that, aside from music, Howard is a huge car fan - and rightly so we say, what's the only sensible thing to spend your cash on when you finally make it to the top? We certainly can't think of anything better than a whole load of flashy motors, can you?
But, what you may not know is that it's always been this way for Howard. It's simply in his roots. He's also had everything from a Classic Mini Cooper to a Mustang GTA over the years, with all the Fiestas and Ferraris in between, working his way up the automotive bucket list every time a new single dropped into the pop charts. We're pretty sure he mentioned his first car was a Sunbeam Lotus, too. Respect duly given! In fact, before Take That, he also started off as a car painter… and had to take time off from the body shop to join the band in the first place. We're sure he hasn't quite made it back to the spray booth yet, not professionally anyway.
Anyway, it's no secret either that Howard has a race licence and is a regular at Goodwood, hitting the track at various members meetings and historic events in cars such as his "70s Porsche 911 and a jaw-dropping 1953 Porsche 356. But, our point is that it was right there at Goodwood - while he was having a mooch around the top offerings at Players Classic - that we got talking about detailing, offering a little advice on various products he could use on his extensive collection of classics.
As it turned out too, Howard was extremely keen to get a proper update on how car cleaning has progressed into detailing since he last hit the body shop mop the early "90s. It's funny how everything changes, eh? So, with that in mind, we suggested he get himself along to the Detailing Academy for a little refresher in the form of one of our Detail What You Bring Courses.
If you're not too familiar with our DWYB courses, it's where you get to bring along your own pride and joy for a full day at our state-of-the-art facility. We team you up - one-on-one - with an professional instructor and take you through the entire process, not only focusing on the parts that you're most interested in, but using our entire arsenal of products. A great way to try before you buy.
It's safe to say that Howard has a few stunning cars to choose from, and we suspect that he doesn't always have the time to detail all of them to perfection himself. But then again, getting in a pro detailer for every maintenance job can mess with an already busy schedule. So that's exactly why he's here, because getting to know the basics is the only way to make sure it's always done properly. And besides, what can be more enjoyable than a spot of detailing when it comes to those really special sentimental cars? All you need is, ahem… a little patience, right?
One other thing about Howard is that we didn't have to pray for a cool car to detail, simply because, aside from all the Porsches and Italian exotica, we already knew that he's always had a love for proper rock star cars from the Mercedes stable. We're not just talking about the obligatory G63 AMG daily either, he's acquired more than a couple of classic Benz offerings over the years including a "93 190, a "95 SL500 and an '87 560SEC once owned by the frontman of Led Zeppelin. What he brought along to The Academy though was the true pride of his collection, the one he calls "Babe" (and yes, we may have made that bit up) - his classic 1970 280SE drop top.
On the day, there were a few detailing processes that Howard was most interested in, which is ideal for us because the whole point of our DWYB courses is that we can give you the foundation and the expert knowledge, while tailoring the time precisely to your needs.
The first was the art of safe cleaning, which we think you'll agree is pretty damn important, especially on a pampered project such as this. After all, if you want to rule the world - or the detailing world at least - it's an indispensable skill to be able to get these processes right from the very beginning of your detail. There's obviously been a whole load of effort put in over the years on this old skool Mercedes when it comes to paint correction, too. So, number one on the wish list was learning how to keep it that way during routine maintenance.
Now, most of you will know that our mantra is that the pre-wash and snow foam stages are the most crucial part of the wet work because it's here that you remove the heavy grime and grit that may cause swirling and paint defects if dragged across surfaces during your contact wash. So, after cleaning the wheels (which it goes without saying we always complete the dirtiest parts of the car first), we took Howard right through the entire process of effective pre-rinsing, followed by using Citrus Power Bug & Grime Remover as a pre-cleaner on every pre-wash, no matter the level of soiling or the time of year. Finally, the bit that every true detailer loves - pulling out the Snow Foam Lance and adding lashings of Avalanche Snow Foam, letting this exceptional cleaner linger to work away on the bonded grime. Avalanche works by lifting and suspending particulates in the foam, so it can be safely rinsed away before making contact. It's a simple idea, but you'll be surprised how often this essential process is forgotten.
Perhaps the biggest consideration throughout these two processes though, is that it's not solely about effective, safe cleaning. Both Avalanche and Citrus Power are wax, sealant and coating-friendly detailing and valeting products, and the fact that they won't strip your protection layers makes them essential for use on every single wash.
The final wet work stages - the crucial contact wash and drying steps - are also essential for keeping paintwork and other surfaces perfect. Utilising the two bucket wash method with Lather Car Shampoo as your safe cleaning agent and lubricant is the ultimate way to ensure that potentially harmful particles are removed safely and you're not risking recirculation back onto your paintwork. You can find plenty of information on this in our other articles, such as - How To Wash Your Car Safely: The Definitive Guide. But, we will say that there's no substitute for getting along to the Academy to go through the process with a professional detailer. A little expert advice always goes a long way.
Safe drying, as we said, is also important. Using a dedicated drying towel - such as our Aqua Deluxe, Aqua Deluxe XL or Silk Drying Towels - is the only way to physically absorb the water (along with all the impurities you'll find in tap water) rather than merely pushing it around the surfaces and risking any water drying naturally. Whether you're polishing your car or not, it's always crucial to dry your vehicle throughly after every wash, this is the only way to avoid water marks and potentially harmful mineral deposits being left on the surfaces.
Topping up protection, and ultimately letting it shine, was also high on Howard's agenda. So, with the car in the detailing bay, we took him through the attributes and science of all detailing protection layers from waxes and sealants to ceramic coatings. For this car in particular we settled firmly on our Passion Carnauba Wax, which we've specially developed to enhance solid and classic paint finishes.
Application of Passion is extremely straightforward using our Waxmate XL Applicator (or a Wax Spot Pad, part of our Handi Puck System), but of course we'd never go whacking it straight on there without fully preparing the surface to lightly refine, deep clean and get the perfect top layer for wax bonding.
Our product of choice here is Rejuvenate Paintwork Cleanser, a blend of light abrasives and deep cleaning solvents that makes short work of the surface preparation process. This concours level pre-wax cleanser is also packed with glazing agents, making it ideal to enhance the beauty and performance of any wax, whether you're polishing the paintwork underneath or not. And, perhaps best of all, it only takes a minute.
Anyway, after the cleansing stage we moved on to applying a layer of Passion which, because it's blended with 45% Brazilian T1 Carnauba, comes with up to 4-months of durability, and a deep, oily, wet-look shine with plenty of natural glow. Could it be magic? Well, no actually, it may look that way but that's just how hard waxes such as this work. All natural waxes contain certain impurities that allow them to modify the light passing through the layer and bouncing back to your eye, this is what gives them their trademark warm, show-winning glow. It's not a question of how deep is your… paintwork. It's more about how deep one of our Signature Hard Waxes can make your paintwork look.
But, we all know that it's not just about the paintwork - effective finishing not only makes the most of the rest of your detail, but it ensures that there's no other areas letting your car down, detracting form the overall look.
After working through the thorough interior detail (using Total Interior Cleaner and Spritz Interior Quick Detailer) that comes as part of the course, we took Howard right through the finishing stages using all-time great kitbag essentials such as Crystal Glass Cleaner, Glisten Spray Wax and Satin Tyre Crème to leave the car with the ultimate finishing touches. We also gave him the full lowdown on other products that are a little more specific to the design of this specific German cruiser, such as our Mercury Metal Polish to take care of all those acres of classic "70s Mercedes brightwork.
Suffice to say that we enjoyed the day almost as much as Howard himself, but then again we always do, no matter if it's a Kia or a Koenigsegg that turns up our the wash bay. What's also pretty cool is that, if the music thing doesn't work out, we're sure his love of cars would help him make a great pro detailer… and we have plenty of other courses to steer him the right direction, too.
For now though, what we love to see is that we all achieved our ultimate DWYB goals together, and Howard's gone away with the fundamental detailing knowledge - and the correct products - to keep this Classic Mercedes looking amazing for years to come.
No matter what part of detailing you'd like to focus on - from wet work right through to machine polishing - we've got you covered at our fully equipped facility in Hertfordshire.
You can book your own Detail What You Bring and get the full VIP treatment here at the Auto Finesse Detailing Academy, or check out our range of professional detailing and valeting courses, here on our Training Page. With courses available for every ability from enthusiast to accredited professional, you can guarantee that we have something for everyone. We'll look forward to seeing you right here…