Need for Speed Heat Launch: London
---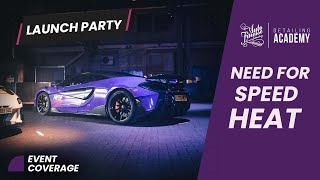 It's finally here; the launch of the new Need for Speed Heat video game and we were only freakin' involved!
The launch of the newest Need for Speed game is always an awaited occasion and even more so for us this year as we were the ones detailing the display cars. Leaving the academy at 7am to get to the London Printworks before 9am for a day of detailing the unknown. We had no clue as to what motors were going to turn up to the launch, but we knew they'd be cool.
We set the Connect up in the carpark ready and waiting for the first delivery of cars to arrive. By 9:30am we'd been greeted by the organisers and taken receipt of some seriously sick cars, including a Dodge Charger, a Nissan GTR, as well as a couple of awesome BMW M cars, including an M4 GTS and M2. Once taken off the trailer, the cars were inspected and a full damage report completed before being taken to the wash area. Using a combination of staple car care products including Avalanche, Lather Shampoo and Imperial Wheel Cleaner, along with Finale Quick Detailer Spray, Satin Tyre Dressing and Crystal Glass Cleaner.
All the cars were privately owned. In addition to the aforementioned cars on display, there was also a purple Need for Speed McLaren P1. Once the cars had each been detailed, vehicles were then moved to their designated areas for the launch party display due to take place later that evening. Once the cars were in place, they were quick detailed again and the tyres treated to a final dress. We performed a final buff off after the lighting was all set up. As you can imagine, the targeted lighting was super unforgiving so we went over it with a fine toothcomb when the lighting was set in place to make sure there were no marks and no remainder product or smearing to any of the panels that wasn't detectable in normal day light. Finally, Need for Speed number plate covers were put in place ready for all the VIP guests to arrive.
Doors opened at 6pm and it was a party like no other. Famous people everywhere, along with numerous influencers arrived in their droves. Consoles and screens were set up around the whole venue for guests to participate and get involved in the new game. Food and drink was on tap and there was even a performance by Aitch!
What a night! 10:30 PM the lights went on; the whirlwind event was over and it was back to the Academy for us.
Words & Images:
Auto Finesse Media Team