Project Spotlight: 1954 Chevy Stepside
---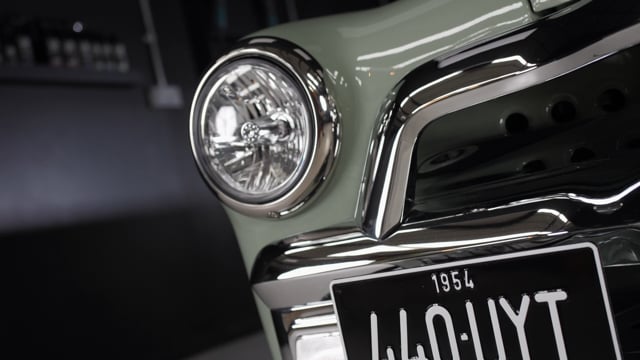 There's always been something of a penchant for modified pickups here at Auto Finesse, in fact, as we write this very feature, we can think of at least four on the fleet… and a few more in the staff carpark!
So, from near enough the very start we've been elbow-deep in truck projects, with perhaps our most well-known from a whole host of car shows being our original VW Caddy. But, as the firm has grown, so have our project ambitions and when it was time to look at a new build to finish off our second decade in the business - it really had to be special.
"I definitely wanted to shake things up a bit for the 20th Anniversary of the company," explains our MD and founder, James Batty. "And, if we were going to move on it, we really needed to take things to the next level." Obviously, knowing what we do here, not to mention the man himself, it was obvious that he wasn't messing about. And, that's exactly how we ended up with this 1954 Chevy 3100 Stepside, a bigger-brother to the our barn storming Caddy you might say.
When we tracked down this time-worn example, rather luckily for us, it had already been imported from the US, and it had previously received a body resto and retrim. What wasn't so lucky is that the quality of work was pretty shonky, and it wasn't anywhere near what we had in mind.
The guys at Old Bones Fabrication in Andover had started to remedy this by fitting a new back end and were planning a new front clip, before the owner ran out of money and enthusiasm - and this is where we swooped down to the rescue. "People know us from the stance scene," says James. "But we wanted to show that it's not all that we're about, we go to a huge number of shows every year and American pickups are always around. Most of them are in original paint though, or completely unpainted, and we wanted to do the opposite, to build one that's more relevant to us as a detailing brand." So, having bought the truck, and then shopped around for the engine, gearbox, air-ride setup, and a whole load of other bits, we delivered the whole lot to Old Bones with an extremely detailed project masterplan.
While the truck had been previously restored, we're talking about real next level stuff here, it was now torn right down to first principles for a full nut-and-bolt rebuild to get it all done properly, with the body panels e-coated before being painted in a custom mix of pastel green. "I'd always had the urge to paint a project car," James says. "With all of our other projects we've inherited other people's paint and perfected it with our products, but this time we could start from scratch."
The shade of green is unique and works perfectly with the Chevy's swooping lines, providing a hint of an old-school "90s custom vibe mixing with the vintage 1950s feel, and artfully counterpointed by the way the pickup sits - this is thanks to its Ridetech ShockWave system, airing it out beautifully over those fully custom split-rims. These wheels are actually a hybrid of the original steel rims, along with polished barrels and lips. With a little paint, and a spot of topping off with polished Chevy hubcaps, they certainly suit both aspects of this build… originality, but modified to perfection.
"I wanted it to look very traditional on the outside," James continues, and the effect that's been achieved is a masterful lesson in contemporary updates to a classic design. The more you look, the more you find; the taillights sit on billet mounts, the original-style badges bear the Auto Finesse name, and the load bed has been seam-welded and re-panelled with CNC-cut iroko wood - the first five panels of which hinge upwards to reveal that it's all a bit less traditional underneath.
The chassis components, picked out in grey powder-coating, showcase a four-linked rear matched to a Mustang II-style independent front end, and this sophisticated chassis is just what's required to help deploy the almighty grunt up front.
Speaking of grunt, when you raise that de-seamed bonnet, you'll find something a little bit special. Crammed in there is a brand-new crate V8, packing a beefy displacement of 376ci - that's 6.2-litres in real money. In stock form, this fuel-injected motor would kick out a robust 430bhp, but stock was never an option, so instead we stumped up for an Edelbrock E-Force supercharger. Thanks to this, along with a charge-cooler, custom exhaust and air intake, and a tune-up by Paul at Wortec in Chichester, this truck now rumbles to the vibrant energy of 580bhp. And that really is a lot in a truck like this.
The exhaust is worthy of particular note, as the Old Bones team have fabricated something utterly spectacular. The stainless system starts with a pair of block-hugging manifolds, running through electrical cut-outs into twin Magnaflow silencers before ending in bang-on-trend pie-cut tail sections, all beautifully TIG-welded and polished. It's a work of art, and the sheer number of hours involved in creating the system is mind-blowing.
This level of attention to detail is evident wherever you look. And perhaps that goes double for the Interior, being a Deluxe model, this truck would have come from the factory with two-tone trim, and we have chosen to follow this tradition, only with premium material upgrades. Chris Burns at Retro Retrims was charged with the task of taking the original Chevy seat frame and boarding, re-foaming and trimming it in distressed leather and houndstooth cloth, covering the doorcards and headlining to match. The seat provides an ingenious packaging solution too, as hidden behind it are the air-ride management system, the washer bottle, a secondary battery, and the stereo which streams from an iPhone via Bluetooth and plays through hidden speakers.
"I wanted the truck to look like something that might have been built in the fifties, like a real top-of-the-line model," says James, and it's clear that attention to detail is the winner here in achieving this effect. The more you pore over this pickup, the more ingenuity and uniqueness exposes itself, but at first glance it appears simply to be an incredibly clean and cherished truck. That's the vibe it needs to exude on the showground. The hand-painted signwritten logos are the final flourish; this build is all about the perfect finish, that there's far more to old skool Americana than corrosion, dents and patina. All of that has its place, but with this old Chevy truck, we know what we really have is something completely new.
Full nut-and-bolt rebuild by Old Bones Fabrication with body panels stripped and e-coated, custom-mix pastel green paint, seam-welded load bed with scratch-built wheel tubs and CNC- cut iroko wood panels (inner five panels open on hinged struts to showcase chassis), new rear panel with central fuel filler, new floors, new transmission tunnel, bonnet front de-seamed, custom billet taillight mounts, hand-stitched chain protectors on load bed (in same leather as interior), signwriting by Neil Melliard at Prosign, laser-cut Chevrolet 3100-style Auto Finesse badges
376ci (6.2-litre) GM LS3 crate motor, fuel-injected, low-rise Edelbrock E-Force supercharger with custom pulleys, charge- cooler, custom Old Bones Fabrication stainless exhaust system (with block-hugger manifolds, electric cut-outs, twin Magnaflow silencers and pie-cut TIG-welded tails), cold air intake, vintage- style Holley rocker covers, GM 4L60E four-speed auto with column-shift and custom linkage, GM 10-bolt rear axle with Moser shafts, 3.23 Richmond gears and Eaton Posi diff, various drivetrain elements finished in gloss black
Custom 7.5x17-inch (front) and 11.5x17-inch (rear) Old Bones Fabrication wheels - with original GM steel centres in polished split-rim barrels, 225/45 (f) and 285/45 (r) Nitto tyres, Ridetech ShockWave air-ride, Air Lift 3H management, twin Viair 444C compressors, air tank mounted behind rear axle, triangulated 4-linked rear, Heidts Mustang II-style independent front suspension setup, Wilwood disc brakes, various chassis elements powder-coated grey
Custom retrim in distressed leather and houndstooth tweed, air-ride management, washer bottle and secondary battery hidden behind bench, Bluetooth audio interface with hidden JBL speakers, Vintage USA Woodward Series gauges, So-Cal Speed Shop Art Deco dash knobs, repro steering wheel on polished Flaming River tilt column, restored Chevrolet heater under dash