Project Spotlight: 1973 Airstream Land Yacht
---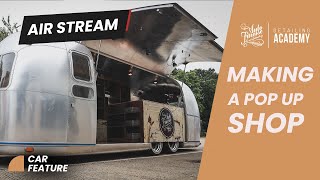 You may have noticed that we like to attend the odd car show here at Auto Finesse, and aside from all the jaw-dropping vehicles we get to see rolling around, there's one other thing that never fails to amaze. The fact is that, you've just got to marvel at the ingenuity and the genius-level thinking you'll find when it comes to - for want of a better phrase - bolting together random cool stuff. Over the years we've seen everything from a BBQ made out of a Mini Cooper to an entire hot tub conversion in the back of an F150 Raptor. We're pretty sure that someone once built time machine out of a DeLorean, too. So, when it came to upgrading our mobile pop-up shop, from our little VW Bus to something a little more fitting for our current, 200-odd-strong product range, an absolutely massive trailer was clearly the natural choice.
The thing is though, this is Auto Finesse, and somehow a run-of-the-mill, exhibition job just wouldn't be in-keeping with what we do here. So, that's when the idea of a custom-built old skool Airstream was mooted. Like most ideas that get casually thrown into the mix at AF HQ, too, it soon became a reality… and here we are with the world's coolest mobile detailing shop.
The silver, bullet-shaped Airstream "motorhome' is a true slice of iconic, retro Americana. The daddy of all caravans, they've been making these in Jackson Centre, Ohio since way back in the 1930s. For many, their aluminium shell and aerodynamic (ish) profile offers one of the most recognisable silhouettes of the entire Streamline era. It's a design right up there with the Auto Union Silver Arrow race car, or indeed the Chevy Stepside pickup. With a little vision one of these could make the ultimate mobile shop and show stand. The only issue being that these may be a "dime a dozen' in central America, but they're not what you'd call abundant on our shores. The search for a minter began.
Almost immediately, it was obvious that a fully restored retro model wasn't going to happen, these are extremely few and far between. So, pretty soon the job escalated, and now we'd be taking on a full-resto project before the shop part of the build could even begin. And, that's about the time that James the boss found this particular trailer in the summer of 2019.
While calling it a wreck would be a bit of an exaggeration, the 25ft Land Yacht we purchased was still in dire need of an overhall. This 1973 model - originally built with a rear bath and twin bed - was basically a restoration project that had finally run out of steam… or cash, or possibly both. It did benefit from a rebuilt main chassis, a bit of aluminium work, and a whole load of bits and pieces dumped inside. But, the main thing was that it was already here in the UK, surely that would be half the battle, right?
Nearly 100-grand and 2 years later, we realise, half wasn't even close!
It goes without saying that this one wasn't built in a day, in fact it took a hell of a lot of work just to get it completely roadworthy - and obviously that was just the beginning of the story. The restoration wasn't actually the biggest part though, because the plans for this 25-footer took the concept of custom to the next level.
You see, we may be detailers here at AF, but we're also modified car maestros. And, even though it's not strictly a motor vehicle, it has wheels, and in our book that means it's rife for a few out-of-the ordinary tweaks. Apart from the actual shop side of things (which was understandably crucial) the master plan was to build the very first bagged Airstream in Europe. Although, this does come with one issue - funnily enough, there's no off-the-shelf air ride kits for this silver behemoth. Unfortunately, no one has ever thought to develop a setup for a '73 Airstream. Go figure, eh? But, after the amazing build on our '54 Chevy Stepside, we knew that one place could make our plan a reality - Old Bones Fabrications in Andover.
Steve and his crew scratch-fabricated a pivoting air ride system of such genius that it allows the trailer to near-enough lay frame at the flick of a switch. They even took the original wheels and converted them to split rims, an amazing touch that's easy to overlook with the magnitude of the whole thing.
The rest of the outside was restored and modified to our spec while in their care, complete with custom pin-striping, a huge 1930s-style pop-up, revolving sign, and the centrepiece of the whole operation - the gargantuan flap that allows showgoers to gain access.
The huge pneumatic door - if of course, it's right to call an enormous, elevating side panel merely a "door' - also runs from the central air tank, cunningly put together from an old propane bottle mounted, period-correctly, on the front A-Frame. Luckily for us, we have a huge product stand inside, instead of a dodgy gas cooker, anyway.
Once inside you can see the mountain of work that has been completed at Old Bones, all the little details that come together to form a sight arguably even more impressive than the outside.
James spec'd everything from the hardwood shop shelves and the copper-topped counters, right down to the hardwood flooring and light fittings, all in our customary retro-chic style. He won't mind us saying that creating touches like the one-off merchandise rails or the custom sofa, expertly trimmed in the same leather as our Chevy, has been a real labour of love.
Hidden underneath the aluminium cladding, it's no less detailed. Miles of wiring have been integrated to run the various systems around the trailer. It's not just a plug and a till in question here - we're talking custom lighting, a huge speaker system, monitors and even a wifi connection.
Late last season the AF Land Yacht launched to rave reviews, even Fast Car Magazine mused: "we'd go so far as saying they have the best show presence of anyone." High praise indeed. The trailer has been as far afield as Ultrace in Poland and - now that James has got his hands on a Revere X-Class specifically for the job of towing - you'll see it a lot more around the UK events this season, too.
All in all, our slick, shiny trailer queen now gives us the ultimate base to offer you our extensive range products on the go, it also means that it's not only a sight to behold when we rock up, air out and flip the flap… but there's strictly no gazebos and tent pegs to worry about, either.
Custom twin axle air ride pivot arm conversion, one-off split rim wheel conversion, rebuilt steel chassis and A-frame, restored aluminium body, windows and lights, custom side panel door conversion with pneumatic rams, Restored Airstream rear awning, custom pop-up revolving sign, custom pin striping
Custom aluminium interior cladding, copper-topped hardwood counters, fully integrated lighting, till and sound system, hardwood floors, one-off split-rim coffee table, custom leather-trimmed seating area, integrated hardwood shelving and merchandise units, drinks fridge