Project Spotlight: Ford Transit Connect M-Sport
---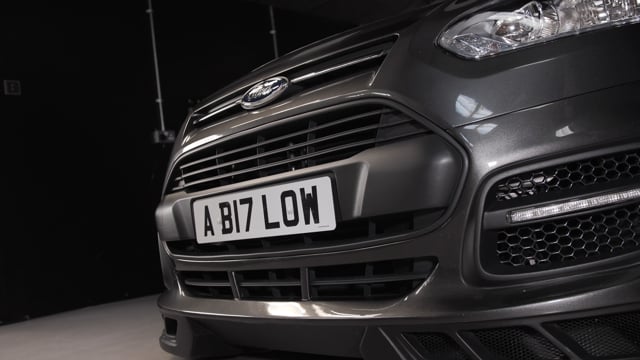 We firmly believe that, for any business that ever gets out on the road in pursuit of its day to day duties, the humble van is the mobile "shop window'. It's an insight into the company, what they do, and most importantly who they are. On this occasion, we're not simply talking about what goes on in the detailing world, either. It doesn't matter if you're a plumber, valeter, delivery driver or if you walk dogs for a living, the fact is that your work van projects what your firm is all about to everyone else. This notion even pre-dates the concept of vans themselves, and it's been this way since the very first tradesman decided to scrawl his name on the side of his horse and cart. It's a simple case of advertising, or at the very least, letting the world know that you could be the answer to all their professional woes.
Of course, there's also the matter of public perception. There's no denying that a sparkling new van subconsciously says that a business is doing well, while a clean and tidy van gives an air of discipline and organisation. There's a certain amount of confidence when you see either one of these attributes for any service you've booked, and rightly so.
But, what happens when someone turns up in a fully modified weapon, decked out with all the gear to get the job done to the highest possible standard? Well, you just know that their business - for want of a better phrase - really does means business.
It's simply this kind of eye for detail and love of all things cool in the automotive world that sets the good aside from the great. And, the very reason you see this particular modified Transit Connect on the Auto Finesse fleet.
Of course, we're very much in the detailing game. So, a few years ago when the idea of building the ultimate van for our industry came up, we knew we had to put one together to blow all others out of the water. After all, being detailers ourselves, we already knew what the dream professional spec would be, especially for a "no budget' passion project. So, perhaps then, the most important word here falls on "ultimate', and for ours that would mean sourcing nothing less than a jaw-dropping base van… and all that's before we could even get started on the actual "detailing' part.
So, with all this in mind, it may surprise you to know that technically (aside from the custom graphics and a few mammoth detailing sessions) we haven't had to touch the bodywork of this Transit at all. And, it's simply because our jumping-off point was already the ultimate factory-modified load lugger - the Transit Connect M-Sport.
This is, in fact, the OG version of the van that later became the Transit Connect MS-RT. And, we all know that there's nothing better in our game than having one of the first… and there's all the more kudos it comes from the biggest tuning company ever to work on a commercial vehicle.
We're talking of course, about MS-RT, the organisation formerly known as M-Sport. The brainchild of Malcom Wilson and South Wales commercial vehicles specialists Van-Sport, these guys have forged a reputation for putting their styling and motorsport know-how into the most desirable Ford wagons on the street. So, put simply, there could be no better beginning for us than one of their custom-built Connects.
Now, the good news is that these already come fully-loaded with an aggressive exterior styling package, along with a Milltek stainless exhaust, 18-inch OZ Racing wheels and all sorts of luxury interior trinkets, like nappa leather trimmed seats, and a custom sports steering wheel. So, with such a monster spec right out of the box, we could concentrate on what's most important to us - making it the world's best mobile detailing workhorse. It goes without saying that, for this project, it's very much a case of what's on the inside that counts.
Now, when you distil it down, the best detailing vans must be built around three key practicalities. There needs to be access to mains voltage, a substantial amount of water on board, and space for all the essential detailing kit… of which, we have more than a couple of bits and pieces.
The only answer was to design and build a custom install to contain all these essential elements, starting with a 175-litre water tank and a heavy-duty power inverter, and finishing with a rear compartment specifically designed to showcase our products. Each bottle fits in place to ensure there's no spillages or shifting around when out and about, and it's all bathed in the warm glow of a custom LED light setup. Of course, looking special is one thing, but this area is infinitely practical, too. At the bottom we have extension reels for power and the in-built pressure washer. This ensures that the Connect is always ready to tackle the toughest jobs. To the right there's custom made accessory drawers to store anything else we may need. As you'd expect it's an installation that's all very and practical, but with more than a small amount of finesse. As we always say; the finer details really do matter.
There is of course, one last thing you'll notice about Project Connect, in fact it's likely the first thing you noticed - this little van is absolutely, unceremoniously decked!
Now obviously, just about every industry-leading detailing product in our catalogue, along with enough water to rival your average fire engine, isn't going to be light. But, this kind of epic stance doesn't come due to any sort of overloading… unfortunately, it's far more complicated than that. But then, we couldn't leave this factory-modified beast totally how M-Sport had intended, could we? We may be detailers but we're hardcore modifiers, too.
It took more than a little ingenuity along the way, but the custom, heavy-duty air ride setup - which utilises custom Bilstein shocks, Air Lift Performance bags and AccuAir E-Level management - not only makes our van look amazing on the down low - but is seriously practical for lugging around the precious cargo. In fact, this Ford wagon isn't just the ultimate detailing van, it has to be the lowest on the streets, too. It certainly rivals any show car out there.
And, what about those custom 20-inch forged Rotiforms? Well, we are fond of the OZ Racing 18s from MS-RT, we often use them for day-to-day duties during winter. But to be big in the game, you have to be ahead of the curve - and these BUC split rims certainly fit the bill there. You kind of expect to see wheels like these on high-end Bavarian bruisers, not mid-sized vans with a Blue Oval on the bonnet. But, you see, that's the whole point of this build, and just one of the reasons why our little Transit nearly broke the internet on first release. Suffice to say that it's been an Auto Finesse showtime staple ever since.
You'll be glad to hear that Project Connect is far from retired, too. It's no show queen this one and you'll still find it rolling up and down the UK for many a detailing job. Funnily enough, you never seem to have to ask any TeamAF member to drive this van more than once, either. You see, it may have appeared on the cover of one or two international magazines, not to mention on the wish list of many a mobile valeter, but where this one really comes into its own, is out and about detailing cars - it is very much a working van after all. It just so happens to be the ultimate detailing van at the same time.
Original M-Sport/MS-RT bodykit, custom Auto Finesse vinyl graphics by Joe at Black Sheep Inc
20-inch Rotiform BUC forged split-rims, 245/30x20 Continental tyres, AccuAir E-Level management, Air Lift Performance air-bags, custom Bilstein shocks
M-Sport/MS-RT nappa leather interior, sports steering wheel, custom rear build encasing the Auto Finesse product range, 175-litre water tank, power inverter, built-in pressure washer, electric points and extension reels
Want to see our Project Connect in a bit of action?