Project Spotlight: MK1 VW Caddy
---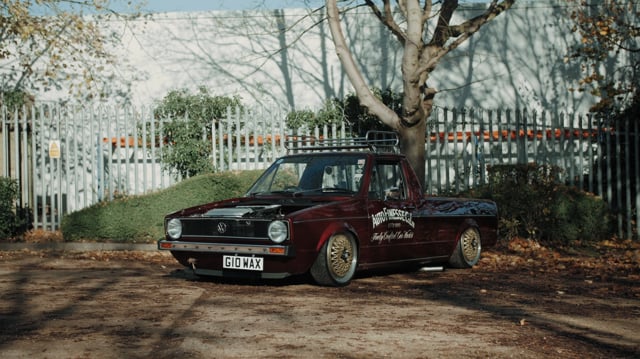 Even before it was sitting pretty here at Auto Finesse, it's safe to say that our founder, James Batty, had his eye on this particular truck for a while. In fact, in the charge of its previous owner, the little Mk1 Caddy had already been featured in one or two of our adverts as far back as 2012. Unfortunately though, it was very much one of those "sorry mate, it's not for sale" kind of deals… until of course, everything changed.
So, when it did come up in 2013 (rather unexpectedly we might add), even though we wasn't really in the market for such an involved company vehicle build, James thought it would make a seriously cool old skool delivery truck, and the idea for the original Auto Finesse Caddy - possibly the most famous AF project car of all-time - was born.
But of course, there's much more to the story when it comes to the final version that you see here. Or any of the other iterations this truck has seen over the years. This moonshiner-inspired pickup has undergone a thorough, ground-up rebuild more than once. It's also come a long way from the time it was sat on G60 steels, sporting the original 1.6 8V motor. We've seen it bagged and powered by a 2-litre 16V Corrado engine barking through twin Weber 45s along the way. And in 2017, it finally became the Porsche-engine'd fire-breather on ultra-rare BBS mag wheels that we see here.
But, we'll get to all that shortly. The point is that a moonshiner-inspired ethos has lived through from the start. After all, here at Auto Finesse we're very much in the business of "shine' anyway, and the idea of keeping a reasonably stock body, but completely reworking everything underneath and dropping in a hardcore engine is a practice that's as tried and tested as it is cool. Oh yeah, and what's more, this Caddy was quite literally born in a barn…
What's even more important though, is that apart from the obvious spats of heavy modification, there's been one other underlying rule throughout the whole build - and that's to let our detailing products do the talking on the exterior. You see, apart from a few touches like the custom made-teak accents, roof rack and a spot of arch fettling, the body is bone stock. Even the paintjob was inherited, and it stands at well over 15-years old now, so this pickup really is a testament to what detailing the correct way (all the while using the right products) can do for any vehicle.
But how did we get here? And how was the majority of this project completed before the days of enormous, state-of-the-art factories and Detailing Academies with custom-built polishing bays, ramps, tools and all the trimmings? It may have been a less complicated time for the business - then located on a farm in leafy Hertfordshire - but we can assure you that the Caddy build was no less work!
You may be surprised to hear that 90-percent of this project was completed in-house back in 2013. James and Simon (now our Production Manager) spent every available hour in the barn out back, crafting this near-standard VW into a bona fide showstopper. Aptly for this retro truck it was simply done the old fashioned way - with a small tool box, a trolly jack and a whole load of graft.
Like so many of these things though, it started with a relatively simple idea - in this case, upgrading the original engine for something with a lot more poke. After all, this VW truck had to be able to travel fully loaded, all over Europe, under its own steam, right?
A 2-litre Corrado engine was selected and fully rebuilt by VW specialist ETech, while James and Simon quickly pulled out the original. And then they found themselves at another turning point. With no engine in the bay, surely a full wire tuck was in order, wasn't it? And then the bay could do with colour-coding in that stunning VW Indiana Red, too. And then… well, you get the picture, that's how these things start.
Many nights of scraping at seam sealant commenced, along with the mind-bending task of removing or relocating any parts that may be even slightly offensive to the eye. Oh, and let's not forget the welding up of every single stray hole, too. Just to make sure the whole bay was totally smooth before it went off to paint. Over the whole build in fact, there's over 300-hours in welding alone!
As the story goes, James left Si in the barn to get on with the bay for a couple of hours, so while he was at it, he also ripped out the interior, figuring it deserved a new look, too. It's easy to see how these things escalate, isn't it? That interior would eventually be replaced with exactly what we see today, the classy choice of chopped Mk2 Golf GTI seats, and a full retrim in leather and Harris tweed, all spec'd by James and put together by the guys at LG Trimming. It's essentially a masterclass in taste and restraint, only broken up by seriously trick details like the leather-trimmed dash, VIAIR gauges, the retro-style headunit and a thoroughly period Series 1 Wolfsburg steering wheel.
Chassis wise, the main modifications were completed at the same time as the engine fitting, which was expertly dropped in and finished off with a barking side-exit exhaust. James and Simon travelled to ETech with a whole load of new parts in tow, not least a trick custom 4-link rear beam, and a full-on air ride system (this time with a set of H&R shocks customised to accept bags, and later swapped to a full Air Lift Performance setup). Naturally, this all came with the particularly unique touch of a dual VIAIR compressor setup hidden away in the steel ammo box in the bed. It also ensures that this truck can lay frame (or at least "lay sump and side-exit') at any given opportunity. It's a far cry from the mere "spot of lowering' that came with the original plan. Come to think of it, we're pretty sure the late addition of that amazing hand-striped signwriting wasn't in that particular plan, either.
But, that's just how these things evolve, and there's perhaps no bigger evolution than what's sitting on all four corners. After going this far, the G60 wheels were deemed to not quite cut the mustard, and (eventually, after quite the search) the very last set of New Old Stock BBS E51 magnesium wheels were tracked down at Racing Team Hoffman in Germany… suffice to say that more than a few Euros changed hands that day!
Expensive or not, these wheels certainly do the retro project justice. Built up into 7 and 7.5x17-inch 3-piece splits, and clad in 185/35 rubber, we just can't think of a better combo.
In this configuration, the Caddy saw a huge amount of shows over the next three or four years, almost inevitably picking up awards wherever it went. There's a whole trophy case for this one in fact, with gongs from six different countries, including 18 "Best In Shows'... and all that's without the fact that it also won the top prize at Edition 38, twice. But of course, there's one last elephant in the room here, and that's the current engine which was slotted into place for the 2017 season. It's not rocket science this one (or perhaps it is), James decided to change it up, to give a bit more of a modern twist on the old skool delivery truck. And why not? Why tune the smaller 4-pot to destruction when you could simply (although, of course, these things are never simple) be the first to drop a whacking great 3.2-litre V6 from a Porsche Cayenne? From moonshiner to more modern moonshiner in one fell swoop. Once again, the Caddy would storm the show scene, right up to the present day. And all to critical acclaim, too.
Over the years, our retro truck has seen its fair share of column inches being featured in the world's most respected modifying magazines… and not just here in the UK, either. The AF Caddy has been in print as far afield as Poland, Germany, Mexico, Russia and South Africa.
Quite the icon of popular culture in the tuning world then? You could say that, and unlike many from the same time period, our VW is still going strong, albeit in a semi-retired state, lovingly displayed in our flagship store at the Detailing Academy.
Sure, nowadays the moonshine crates are generally filled with a heady selection our top detailing products, but it does get out for a few special outings during the summer season. And, as you can well imagine, it gets full OG status every single time!
You could say that it's spawned a few brethren here at AF along the way, too. There's actually two or three other modified pickups on the wider fleet nowadays. But, for the moment, let's just disregard quarter-of-a-million-quid Chevy builds, widebody X Classes, and a certain other Caddy project that's all-new for 2021. Because, to put it bluntly, the legend lives on here. And rightly so - this really is where it all started.
3.2 litre V6, Porsche Cayenne engine, custom loom and side exit exhaust, wire tucked and painted engine bay (VW Indiana Red), custom Forge Motorsport alloy fuel cell, custom alloy radiator, battery relocated to cabin, polished hardware
Custom built 7 and 7.5x17-inch wheels with NOS BBS E51 magnesium centres, 185/35x17 Nankang NS-II tyres, custom SeenIt-USA 4-link rear beam, Air Lift Performance front struts and rear air bags, AccuAir E-Level management, VIAIR twin-compressors mounted in genuine ammo crate, Wilwood 4-pot BBK with bias valve and relocated servo
Custom Pro Sign hand painted pinstriped doors, custom teak bumper and bed side guards, custom chrome roof rack
Converted "low-back' Mk2 Golf GTI seats retrimmed in half leather and Harris Tweed, Tweed-trimmed roof lining and doorcards, leather dashboard and console, Alloy battery box, VIAIR gauges, Series 1 Wolfsburg steering wheel, Dynamat sound deadening throughout, retro-style single-DIN headunit