Project Spotlight: Toyota GR Yaris Pandem
---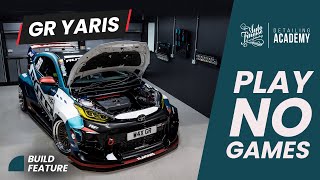 The pull of the racing circuit is strong here at Auto Finesse, but you'll probably know that because you've seen our M2 Competition, 20v Mk2 Golf, LWK S15, Skyline R32 GT-R and a certain little AF Twingo all hit the tarmac in anger over the past couple of years.
But even so, while this particular Toyota superhatch has already been over the interweb and blown up on social media all around the world, you may still be asking where exactly our GR Yaris slots into the AF fleet, and what's more, how did it end up as one of the maddest - not to mention widest - builds to ever come out of the Auto Finesse Detailing Academy? Well, that's what we're here to answer with the inside story on one of our most talked about projects to date…
The fact is that this little Yaris is not only one of our most used and abused track weapons - a car that has seen almost as may new windscreens as it has sets of tyres in the past year or so - but it's also a project that started out as a car that James - the boss of all things Auto Finesse - was going to leave "reasonably standard" for intermittent daily driving duties, along with plenty of kicks on various track days around the UK. Quite obviously that idea didn't last for too long and a set of wheels and some flashy coilovers just wasn't going to be enough to cut it in the hectic world of AF. What you see here is the actually the second and most recent evolution of a build that's been a long time in the making… but perhaps what's most important is exactly what happened in between.
The truth is that the overall concept distinctly echoes some of our other circuit heroes, almost as if they've paved the way for how this car has turned out. There's many elements that are similar our BMW - the seats, roll cage and impeccable chassis geometry for starters. Just like our Skyline, too, only the best of the best would do when it comes to sourcing the parts and, as for our S15… well, that's pretty damn wide, too, isn't it? In fact, you could say that getting the bodywork spot-on has been the biggest challenge this time around.
You see, when it comes to crazy, race-bred styling for Japanese performance cars there's a duo of huge names that have been on the tip of everyone's tongue over the past decade or so. These two very different companies are at the top of the aero styling tree and both offer the pinnacle of Japanese craftmanship, along with a distinctly important racing heritage. We're talking of course about Liberty Walk in Owariasahi, and Pandem in Kyoto. Now, in many ways these two firms are the Skyline and the Supra of the 21st century Japanese tuning scene, they seem to be forever locked in head-to-head battle for the hearts and minds of those tuning fans with a particular love of wide arched monsters. But the short of it is that we've already built ourselves a Liberty Walk Super Silhouette Silvia this year and, you know what? There's nothing better than having the full set…
So, at the risk of telling this rather epic story backwards - let's fully address the biggest change this car has seen over the past few months - the monster widebody itself.
First of all, it's not like you can just fire up Amazon Prime and get your mitts on a GR Pandem kit in time for breakfast. Despite what you may have heard in the movies, there's no such thing as overnight parts from Japan, not when it comes to items of this calibre. And it goes without saying too, that this particular 16-piece kit is just as expensive as it is exclusive.
The other thing is that, once you do manage to get your order through to Pandem, there's also a waiting list for production that's long and distinguished. Things work differently in Japan. It can take several months for your kit to land on your doorstep, because each item is built to order, bespoke for every specific customer, at a rate of one-by-one. This all takes place at the HQ of the Pandem parent company - T.R.A. Oh, and if the name TRA Kyoto sounds familiar to any of you Japanese tuning fans, that's probably because they also produce some of the other most sought-after Japanese brands including Rocket Bunny, Four Six Customs (6666 Wheels) and Number 6.
But, even though they're a massive deal and have rightfully earned iconic status in the tuning world, what's perhaps the coolest thing about these guys is the fact that they're not some sort of soulless Japanese mega corporation churning out thousands upon thousands of kits every year. Although the CAD design and computer controlled cutting technology they utilise is as modern as it gets - they actually pioneered their much-replicated process way back in the "90s - strict traditions hold strong at TRA and they still work out of a relatively small workshop in the Kyoto backstreets. It's less of a body kit factory and more of a proper garage, with stacks of tools, loads of random nostalgic trinkets, grease, grime and plenty of discarded fag butts on the floor. And their small batch production method is exactly what gives their finished products the sort of attention to detail and finesse that we associate with traditional Japanese craftsmanship. It's also what makes the manufacturing process slow and costly.
Luckily for us, with some indispensable help from our friends at TofuGarage in Germany - who just happen to be the biggest Rocket Bunny and Pandem dealer in Europe - we were able to traverse the language barrier, get our order in quick and even skip the queue on the production side. In our case - and pretty uniquely we have to say - the finished kit landed in record time, a matter of mere weeks rather than months.
As for the kit itself, there's many out there who refer to these as Rocket Bunny aero, and there's a good reason for that. To avoid any confusion, let's just say that Pandem and Rocket Bunny are pretty much the same thing - the Pandem name only came along because of copyright issues with Rocket Bunny in the US. This is why the brand names are almost interchangeable in conversation, the style of the kits is identical and the famous "Okay Hand' logo (the symbol that you may have spotted on the front fender of our Yaris) is exactly the same… only contra to popular belief it's not actually a hand sign saying OK, it's the sign language symbol for "condom'. Yep, it doesn't get any more Japanese tuner than that, does it?
Anyway, what's also important about TRA Kyoto is their racing heritage. Their founder and chief designer - the legendary Kei Miura - cut his teeth on race cars and continues to design all their aero to this day, including every kit that leaves the TRA Kyoto studio. If you've already read the full story on our Liberty Walk S15, you'll see that legitimacy is a vital part of our ethos, and it makes it even more obvious why James picked this kit for our latest project. At heart this Yaris still a track car after all, and there's no other racing-style bodykit that would have done it justice.
Once again, we drafted in Colourkraft in Northampton for the fettling, fitting and painting duties. Not only did they do an amazing job on our big, bad Nissan but they clearly understand that getting the ultimate finish is crucial… especially when you happen to be taking a massive cutting wheel to the arches of one of our project cars. There's no denying that this project has been put together to be thrashed around the track (and it has been on a few full-throttle outings since being finished), but unlike many an out-and-out race car it also has to cut the mustard under up-close scrutiny when on display at the world's biggest shows. As the thousands of people at the recent Essen Motor Show will testify, every part is fitted and painted to perfection. Dare we say it? In terms of fit and finish this has to be the best Pandem Yaris out there.
Of course, obtaining this kind of immense build quality doesn't come without its challenges - it's not simply a track car, so it has to be perfect for the more decerning showgoer, but it's not just a show car, either - it has to actually work on the circuit. This GR Yaris is static dropped over those massive 275/35s for a start, and getting this kind of look without resorting to banging on the air ride isn't what you'd call easy.
The ultimate solution for us was modifying the kit itself. And therein lies the biggest question - who orders what is essentially the maddest GR Yaris kit on the planet, and then decides it needs to be modified to be even madder? Well, that's just James, and the Auto Finesse Way. The truth is that this kit is now completely unique, there's been more than a few custom touches to make it smoother, lower and wider - you can even follow the whole collaboration on the series of vlogs on our AF:TV page. Under the custom livery - designed by our friends Black Fish Graphics in Germany and expertly applied by Identity Wraps here in the UK - the whole car has also been resprayed, there really is no half measures here.
Aside from the mentalist wrap, all the custom modifications to the kit, deeper skirts, a custom bonnet vent and the like, there are a few other practical differences you'll find from the few other Pandem show builds out there. Rather than fitting the usual 19-inchers and messing up the handling on the circuit, the custom-built forged Rotiform BUC-M wheels come in at 18-inches a corner and are fitted with super chunky Nankang track tyres. As you can imagine we had to have these wheels machined specifically for this car - it's not as if you'll find monster rims with extreme (almost ludicrous in fact) negative offsets like ET-25 and ET-31 available off-the-shelf. Of all the AF projects over years, these have to be some of the maddest hoops we've ever had to spec up.
As we've already mentioned this car is static dropped on coilovers and the geometry has been specifically set up for track work, the truth is that it has been this way for some time. Way before a full widebody conversion was even on the table, the Yaris was brought onto the fleet for the 2021 season as yet another AF track day toy. As you can imagine the senior management team take their track work a little more seriously than most so it's something of a familiar story for us. In fact, if you've checked out our Project Spotlight article on our M2 Competition you'll know that - before it evolved in to over 100-grand of extreme motorsport madness - it was originally intended as a bit of cost effective track day alternative to James' Porsche GTS.
In a similar way - and remember that it's all about context here - the brand-spanking-new GR Yaris was bought as a capable but slightly less expensive companion to the (now rather expensive) BMW… or that was the general idea anyway. So, you may be wondering if the fact that this has turned into one of those sort of mega projects where money seems to be no object is a simple case of history is repeating itself? Yeah probably, but the good news is that both cars get used exactly as they should be on every outing. Race, fix and repeat. It really is that simple.
The real point is that, as you'd expect, our little Toyota stayed standard for all of 3-seconds after it rolled into the Detailing Academy last summer. Aside from a few adjustments and tweaks along the way, all the major chassis work and interior mods were completed way back then, just days after its very first track day at Brands Hatch. New uprated discs and pads from Tarox landed at the Detailing Academy, which was something of a necessity after the standard items were promptly cooked on one of our favourite circuits. These were soon followed by whole load of top end parts, including a set of KW Clubsport V3 coilovers, a full line-up of every strut brace, tow hook and underbracing component in the Cusco catalogue, and a duo of rather form-fitting Recaro SPG buckets. The last pieces of the puzzle came in just a few days later - Schroth harnesses and a bolt-in cage from SW Motorsports, finished as you'd expect in bright AF Teal powdercoat.
With the car bolted together and fully set up for the track by Regal Autosport - followed by the later addition of the first incarnation of our bonkers livery - aside from lots and lots of different wheel and tyre combos, that's how the Yaris stayed for a good while, attending a whole load of track days and shows at the end of the 2021 season and early this year. This was of course, right up until a few months ago when the Pandem idea popped into James' head and an already pretty mad little Yaris went through the latest overhall, culminating in the absolute showstopper you see before you. In some ways you could call this iteration of our Yaris as the AF GR V2. And trust us when we say we're already busy contemplating what's in store for V3.
Of course, it's pretty obvious why James chose an actual GR Yaris for his (ahem) "budget' track weapon in the first place. The darling of the car magazines and motoring TV shows over the past few years, this micro Toyota may have a keyring-sized 1.6-litre, 3-cylinder engine, but it still puts out a whopping 268bhp. Unlike the standard Yaris, which is only available as a 5-door, this car was also designed from the ground up by Toyota's Gazoo Racing Division with a whole new body, two less doors and even a carbon fibre roof, just to cover homologation rules and get a competitive hatchback into the World Rally Championship. Even WRC legend Tommi Makinen got involved in the design and production of the road variant, and what they came up was the four-wheel-drive roadgoing racer you see here. The very notion of this car was completely preposterous from the start, and the results are even madder but, as you can imagine, as well as the odd rally stage they're rather good on the tarmac, right out of the box. Within months of the launch, the GR Yaris was also catered for with a whole load of high and aftermarket parts for those looking for help getting their lap times down even more. All good reasons as to why we soon had ours on order ready for a whole load of upcoming AF track day heroics.
But, it's not all about power, apart from having plenty of grunt the GR Yaris really is all about the purity of the handling. In fact, it's probably one of very few true hot hatches produced since the "80s. This one certainly shifts down the road in a lively manner but when you come to the B-road bendy bits, that's where the fun really begins.
In our case there has been a little mild tuning, that almost goes without saying - a HKS front mount intercooler from Co-ordSport, a Pipercross Intake Kit, Quicksilver performance exhaust and a DTUK tuning box are all freeing up a few more horses, and you'd think that the 300bhp mark in a car that weighs about as much as your average Rich Tea biscuit would be plenty - especially with a 500bhp R32 GT-R, 1000bhp S15 and 600bhp BMW M2 already in the stable. Well, it is and it isn't. While we have one epic little track car here already, let's just say that James just can't help himself and the quest for 500bhp is already underway. It's just such a nice round number, isn't it?
For the time being though, that's the story of our GR Yaris in all its Pandem kitted glory. And far from being locked away for the winter or wrapped in cotton wool, you can rest assured that you'll see it out on the track over the next few months being broken in some more… not to mention at just about every event during the upcoming show season, too.
Whether it's hitting the circuit hard, storming the show "n' shine arena, or simply out and about on James' quest to chase the magical 500bhp, it's far from the end of the story for our little GR…
Smoothed and widened TRA Kyoto Pandem widebody, custom side skirts and custom bonnet vent by Colourkraft, custom Auto Finesse livery by Black Fish Graphics and Identity Wraps, Cusco front and rear alloy tow hooks, yellow tinted headlights.
18-inch Rotiform BUC-M 3-piece wheels with bronze centres and polished lips (ET-25 Front, ET-31Rear), 275/35x18 Nankang NS2R tyres, Tarox grooved discs and racing pads, KW Clubsport V3 coilovers, SW Motorsports rear cage finished in AF Teal powdercoat, Cusco front and rear upper strut braces, Cusco under chassis bracing.
Pipercross cold air intake kit, Quicksilver stainless steel exhaust, HKS front mount intercooler, DTUK Tuning Box.
Recaro SPG Fixed bucket seats, Schroth 6-point harnesses, upgraded Toyota infotainment system, Lifeline fire extinguisher.