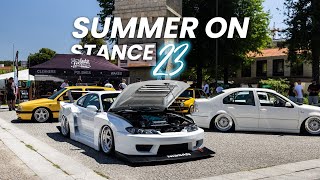 Portugal, it may be at the top of many a list as a lovely place for a spot of summer sun but, as it turns out these guys just love a super slick car show, too.
Now, as you probably know, we ship our top detailing products all around the world. We also have official Auto Finesse distributors in over 20 countries on five continents, an unrivalled network in the professional detailing industry. What you may not know is that Auto Finesse Portugal is one of our biggest, but it's hardly surprising, in a country where the sun seems to shine 365 days a year, it's only right that the cars should shine too, right? Detailing is more Popular in Portugal nowadays than it's ever been.
Anyway, when TeamAF Portugal said they'd be attending one of the best home-grown shows on the calendar, the annual Summer on Stance event presented by the guys at top car community Stancedubs, there was no way we wasn't going to show our support for the extended AF family. And what better way of showing our support you may ask than doing what we do best - loading up a massive car transporter with whole load of our AF project cars and sending them to the other side of Europe?
So, that's exactly what we did, got the cars on a lorry at our home base in leafy Hertfordshire, and popped along to Stanstead to pick up a flight.
After all the unloading at the famous Urban Park in Pacos De Ferreira and helping the guys set up their stand there was, as always, one last task to perform before the gates opened to the public. And that's perfecting and finishing all the cars. Let's just say that what with ours, theirs and a whole load of other hand-picked sponsor cars in a special AF paddock there was plenty to do - all hands on deck for this one, eh?
What's great though is that all of our distributors undergo an intense training course from our team of professional detailers either on their home turf or in the UK at the Detailing Academy, so TeamAF Portugal certainly had this part covered… although, of course, we were more than happy to lend a helping hand, too.
So, as we said, the UK project cars were out in force for this one because, well, if we're going to send a trailer right the way across Europe it might as well be the biggest one we can find. And if it's a proper big rig, we might as well fill it up too, right? The builds we had on display had never been seen at this event before, so they went down extremely well with the crowds (not to mention the judges). These included not just the more recent additions to the fleet, such as our Liberty Walk S15, Porsche 993 and Pandem GR Yaris, but also AF staples such as our OG Caddy, R32 Skyline GT-R and old skool BMW M535i. A great selection of projects from the UK fleet we think you'll agree, and a collection that's not often seen all in the same place at the same time anywhere. This top selection was joined by TeamAF Portugal's very own project - their rather spanking Mk2 Golf, a more than worthy addition to the AF display.
It has to be said that this show is super laid back, creating not just a great collection of cars, but a vibe all in itself. Just so you can see exactly what we mean we'll let the pictures do the talking here, have a little flick through the galleries below and you'll see not just our favourite cars from all around the show, including our exclusive AF paddock, but you get an idea of the awesome atmosphere this show presents, too. Amazing what a few epic builds and a spot of sunshine can do, isn't it?
As one of the main event sponsors we not only had our own huge display but, as is traditional, we also got to pick our Sponsor's Choice Award for our favourite car, something we left to TeamAF Portugal to judge, as it's on their manor. In the end they picked this super clean, and immaculately modified modern classic 5-series. These are getting super rare these days, especially in this condition, so we have to say that it's very well deserved. We love the bags and we love the wheels, but just take a look at that rather epic interior - BMW perfection and no mistake.
Of course, having nothing to do with any judging ourselves, our UK cars were also entered, and we're proud to say that we picked up three awards from the Portuguese judges at Stancedubs for our project build line-up. So, we actually got to go home with a bit of silverware for the UK trophy cabinet, which is nice.
Big thanks to all the guys from Auto Finesse Portugal for their hard work in putting together a top display, and double thanks to everyone else who supported the show and popped along to grab a detailing product or two.
You can guarantee that TeamAF UK will be back in Portugal soon, and not just for a cheeky all-inclusive, either. What a top show Summer on Stance V8 was, and we just can't wait for the V9 version coming next year.
Keep an eye on the official Stancedubs website for updates and for more top show reports from the UK, Europe and the rest of the world check out the Shows section of our Blog.