BMW 535i: Part Two - It's All In The Detail
---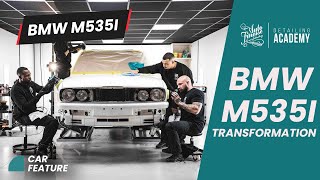 As the latest addition to the fleet, the 1987 BMW E28 535i was in serious need of the AF treatment so we organised a week-long detail featuring some of our much-loved and much-trusted members of our Accredited Detailer Network including Urban Valets, Valet Nova, Artisan Automotive and The Car Genie.
The first day in this extensive detail comprised of some thorough pre- and contact washing. We removed all the old sound deadening underneath the bonnet, which left behind a lot of glue residue that needed tackling. We proceed to mask up and cover any electrical components and air intakes before jumping into the wash stages. Good preparation is really important here. The wheels and engine bay were the first things to get cleaned. The wheels were completely removed while the wheels, wheel arches and engine bay received a good thorough clean using Eradicate engine degreaser together with detailing brushes to reach any intricate areas. ObliTARate tar and glue remover and Iron Out fallout remover were both used to remove any grease and stubborn contamination that had built up over the years. While the arches and engine bay was being treated, the wheels were given a separate Imperial wheel wash and finished with Iron Out to break down contamination. Onto the paintwork, the whole car was saturated with Citrus Power, bug and grime remover which was then agitated all over using one of our quality detailing brushes - we go on to machine polish the car so any light marring caused will be tackled later on. A hue of Avalanche snow foam was put over the top and we hit areas such as rubbers again with more Citrus Power and a Hog Hair brush. It was onto shampoo. Using Lather car shampoo, together with a mixture of mitts (Lambswool and Noodle Mitt) we give the entire vehicle a thorough wash. Iron Out was then used, followed by ObliTARate, to rid the vehicle of contaminants. It's important to use a tar remover (such as ObliTARate) as the second stage in the decontamination process, after Iron Out and be sure to follow with another wash to the areas treated in order to neutralise the solvent prior to claying. The entire car was then clay barred in conjunction with Glide lubricant. A second snow foam was performed before being rinsed and towel dried with our ever-popular Aqua Deluxe drying towel. The car was then taken inside the Detailing Academy and set up in the bay ready for dismantling. Dismantling occurred to the wiper arms badges, spoiler, door handles, indicators, rear lights, front lights and number plates in order to set it up for day two. We also assessed the paint, performing depth gauges, marking any dents and chips with masking tape to sort later on and masking up windows and surrounds, plastics, rubber trims and its pinstriping.
Day two was all about paint correction. And that's all paint - even the undersides! We took two of our specialist products; One Step single-stage car polish and our Revitalise three-step compound kit to small areas to see how the paint reacted. One Step doesn't have fillers - the finish you see is the true finish. It works by utilising abrasives that break down as you work the polish. Beginning as a heavy cut compound and acting as a refining car polish all in one. Working in small areas on every panel, we checked paint reaction and the way each product cut to ensure we used the correct product and process for that area. This aspect of the paint correction process is very important and it's worth investing a good amount of time in it. Not every panel will be the same. Especially with older cars where you perhaps don't know the history, whether it's had any repaint, where's it's been stored (perhaps it's been left out in the sun and received oxidisation from UV damage to areas such as the bonnet and roof). You just don't know until you check. We used gauges to check the depth of the paint in numerous areas to each individual panel before performing any cutting. We worked around the vehicle with One Step or the Revitalise kit process (which one being used dependent on paint depth readings), together with a machine polisher, until complete. We also checked the finish as we went, working panel by panel, analysing the gloss level with the glossometre.
Cutting done, it was onto the refining stages. Our Revitalise Kit is a three-step kit; one being restoring and cutting back, two being polishing and three being refining. We finished off this process based on paint readings to get the paintwork to a point in which it was ready for polish and protection. Once the machine polishing was complete, the first layer of wax was applied and buffed to perfection. We'd decided against a ceramic coating this time because these are generally the more durable option, specifically for cars that are used more. The E28 will live inside and therefore not require such a durable coating. It'll be driven on the odd occasion for enjoyment, as opposed to being used as a daily commuter vehicle. We also feel the warm glow that a wax offers suits an older car better. We also got The Dent Men in to sort the 34 years worth of car parking dings that we'd previously marked up with masking tape. In bay two, the finer details were being tackled, such as refining the headlights and surround, with the front grille having been removed, light bezels were polished using Mercury metal polish, rear light surrounds were corrosion sanded down, the light lenses were then masked up to paint the surrounds in a fresh coat of satin black spray paint and refitted to the car when dry. The front indicator lenses were detailed using One Step, together with a Dual Action machine polisher and medium pad. Even the tool kit that came with the car got a hand polish. The kidney grille, bonnet inserts, wing mirrors, and front light surrounds were all soaked in Dressle. Soaking these allowed the product to really get into that old plastic that was starting to dry out a bit, to try and get them back to their former glory.
On the inside, we stripped out the interior ready for a deep clean. A steam cleaner was used together with Verso all-purpose cleaner to get deep into the interior. Verso was also used on all interior plastic surfaces, which was agitated throughly using an interior detail brush. Every square inch was tackled, including the pedals, switches and doorcards. Spritz interior detailer was used to finish off. Cotton buds were saturated to clean vents and any other very tricky areas. Any remainder dirt was then hoovered out or wiped away. The entire interior was steam cleaned and hoovered, with Valet Nova performing some of his signature matt art. Hide cleaner was used to clean the steering wheel. To finish the day, the wheels were treated to Tripple polish to brighten up the dishes, and topped off with Mint Rims wheels wax for protection. ObliTARate tar and glue remover was used on the tyre side walls to remove any old tyre dressing that has bonded to the surface. Doing this will mean that when you come to add a dressing to it, it will bond to the surface better and make it more durable with a more even finish. Tyre walls were then finished off with Dressle for an even natural finish.
Day four was spent putting it all back together. As you can see from the video, the E28 was stripped right back so we could treat as many parts individually as possible, short of removing panels. Identity Wraps were also in the house laying down the livery you see before you now. We went for subtle, but it in know way has any less wow factor. The wheels were put back on and the washer jets were descaled and refitted. The side indicators were refitted, along with the rear lights, kidney grilles and original BMW badges were all refitted and a brand new number plate D20 WAX was put on the car to really make it a part of the AF fleet. And we finished the day off by hand-polishing the paintwork to the engine bay with Tripple car polish.
It was off into London for a full photo shoot! It's safe to say we enjoyed this detail a lot; the E28 has come a long way and is definitely looking like one of the fleet now thanks to its thorough detailing and new wrap addition, but it was also great to work alongside just a few of our talented network of Accredited Detailers, too.
Again, a big thanks goes out to our awesome Accredited Detailer Network members Urban Valets, Valet Nova, Artisan Automotive and The Car Genie involved in this project.