Detailing a Chromed-Out British Classic 1966 Jaguar S-Type
---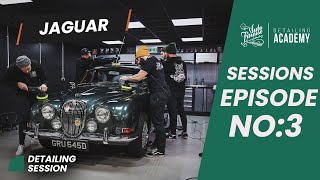 Detailing, as you can well imagine, is a lifestyle here at Auto Finesse, so we just love it come Sessions time, because it gives us the chance to get together a crew from all around the many departments, and meet up at the Detailing Academy for a spot of doing what we do best, on something very special. It also gives you the chance to see what we get up to behind the scenes, too…
The car we've chosen for this particular get together, is a 1960s Jaguar S-Type, itself a variation of the legendary Mk2… the Ronnie and Reggie Special - the car that no self-respecting "60s villain could be without. The Jags of this era practically came with a sawn-off in the glovebox as standard. And, we kind of like that.
Although - like in all of our Detailing Sessions - the Jag would be treated the full detail you see in the video, once again we'll highlight the three main stages that make this car a little different from the norm. This time it's the exterior trim, the engine bay and that amazing retro interior.
But first of course, we'd have to treat the car to a full pre-wash, contact wash and decon.
You may be wondering why we've not chosen to highlight correction on old skool single-stage paint as one of the key processes for this car. Well, it's simply because, the paintwork isn't actually that old. In fact, this example had been fully restored to a very at some time in the past couple of decades, so essentially it could be treated as a modern car.
After close inspection (and a spot of testing) it was clear that there was only very light swirling and a few marks here and there, we could quickly take care of these with our One-Step All-in-One Compound and Revitalise No:2 (medium foam) pads.
After that, we utilised Ultra Glaze to enhance the paintwork further, help to mask any small defects and to leave behind a wet-look gloss that really suits this type of classic. Of course, Ultra Glaze also serves as a great foundation for the kind of lustre and protection than can only come from an amazing show wax, in this our ultra-durable flagship natural wax - Desire.
One of our favourite things about this Jaguar - not to mention one of the aspects that makes it an unusual detail in this day and age - that it has chrome trim for miles and miles. From the wheels, to the bumpers, to the famous Jaguar Leaper on the bonnet, there was plenty of intricate areas to take care of using Tripple All-in-One Polish.
Admittedly, on a car like this, it can take a while without a full crew, but the results are well worth it. Tripple quickly removes stubborn stains and oxidation, bringing that faded brightwork back to life. This actually enhances your paintwork and in turn the whole job, rather than detracting from it.
Unlike modern engines, you won't find a whole lot of engine protection on a classic from this era. Come to think of it - they didn't do a whole lot to protect the wiring and other vital components, either. With this in mind you have to be extremely gentle, you can't just go in there hard with a pressure washer!
The good news is that the straight six in this S-Type was in great condition, it just needed a little tlc with a bottle of Finale Quick Detailer and a FeatherTip brush to gently clean away the grime, followed by some Mercury Metal Polish to remove a little corrosion, and help polish the bare metal back to a super-shine. Again, these classy metal parts are one of the best features this car - it's all a far cry from how they put together modern engines, that's for sure.
With a little targeted finishing with Dressle All Purpose Dressing on the rubbers, that's the engine tidied up without going overboard - it's just a little enhanced here because, most crucially on this kind of classic, originality is everything.
It's obvious that one of the major highlights of this car is the interior - the acres of brown leather and that lacquered wood dash make this one 1960s to death!
Again, it's always important to be gentle on a classic, even one with years of ingrained dirt in the carpets. We used a full complement of interior goodies here - Total Interior Cleaner on the trim, carpets and headlining. Tripple and Spritz Interior Quick Detailer on the Dashboard.Verso All Purpose Cleaner on the grubber carpeted areas and the floor mats. And, finally Hide Leather Cleanser and Hide Leather Conditioner to deep-clean and nourish the seats and door cards. Perfection.
Once again, we'd say that the final results speak for themselves here. But, as always, there were many other aspects to this detail, check out the video at the top of the page for the full lowdown.