Nissan Skyline R34 GT-R V Spec Nismo S1 - Enhancement Detail
---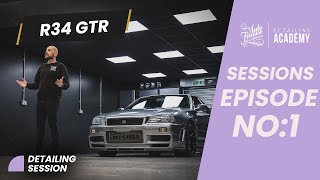 It doesn't matter if we're working in the factory, on customer service, in the packing department, senior management or from any other facet of the wider Auto Finesse family - the whole team love detailing cars. It's one of the main reasons that our products are so effective, because they're created by detailers for detailers.
But, although there's a whole load of detailing jobs going on at our Academy every single day, it's not very often we get to pull in an extended crew for one big detail. So, that's exactly what our all-new Sessions Series is about, starting right here, and right now.
Of course, or Sessions videos will also give you with the chance to see what goes on behind the scenes at the Auto Finesse Detailing Academy, the fun and games when we all have the chance to get together on something a little special…
It goes without saying that we're more than versed on detailing special cars here, but it has to be said that this particular Skyline is a little more special than most. In fact, we can't think of a better car to kick off this new series, because the R34 GT-R Nismo S1 is nothing short of an icon.
What makes these so rare is that Nismo built them at their Omori factory, taking a limited number of stock R34 GT-R V Specs and treating them to a whole host of tasty Nismo add-ons. What we're looking at here is a car that's modified by the Nissan tuning house right, from the factory. The forged RB26DETT engine alone was tuned to around 400bhp (though, they never released official figures), with uprated internals, turbos and all the trimmings. One of the most obvious, and most desirable tweaks is the fully-forged Nismo LMGT4 wheels - what you might call an epic finishing touch.
Soon to go on sale with a pricetag of over £140k, it was clear that this freshly imported example needed the kind of detail to match its iconic status. But, that was never going to be a problem for the team…
Full decontamination, using Iron Out and ObliTARate, along with Glide and our Clay Pads would always be on the cards, simply to eradicate any built-up contaminates that may have been inflicted before importing and during transit. But first, a thorough pre-wash with Citrus Power and Avalanche Snow Foam (along with utilising Lather Car Shampoo for a supreme contact wash) would have to be performed to remove the worst of the grime and fully prepare the car for the crucial decon wash stages.`
Decontamination is extremely important before any sort of effective paint correction can take place. Even if your car looks clean, chances are that underlying contaminates, along with hardy, sticky residues will remain after contact washing, especially on a car that hasn't been previously protected using an effective LSP. In our case this Skyline appeared to be reasonably clean on the surface, but it was surprising just how much metal contamination was highlighted and dissolved using Iron Out Contaminant Remover. ObliTARate Tar and Glue Remover was the next step to remove tar residues, followed by claying all over to leave the paintwork silky smooth and contaminant free. After these simple processes you can actually feel the difference.
For more information on safe washing and paintwork decontamination, you can look for our guide: "How to Safely Decontaminate your Paintwork".
After one more contact wash, which is important to neutralise any remaining decontamination product residues, we could rinse and dry the car, and then get it inside to be masked up. Masking rubbers and trim is a simple case of adding protection - this will help avoid any damage being inflicted when machine polishing.
With any rubbers and trim masked up, as always, the first job is to assess the paintwork. This is particularly important when the history of the vehicle is unknown, and it has to be carried out on every panel to check for variations in paint condition, thickness and volume of defects.
This time around - as you'd likely expect - the R34 had been well looked after and, apart from a few minor swirl marks and a spot of marring under close inspection, the original Nissan paintwork was clearly in good condition. But of course, that doesn't mean that it couldn't effectively be enhanced all-over using Tripple All In One Polish.
The great thing about Tripple is it can be used by hand or machine, this means that the larger panels can be tackled along with the more awkward recesses, along with inside door jambs and under your bonnet. It's also extremely effective on painted wheels, and why not? These Nismo rims certainly deserve some love.
Using medium Revitalise Pads and DPX Dual Action Polishers we set to work, saving the hand polishing until last.
To finish and protect the paint we opted for the dripping wet look offered by our Illusion Show Wax. This was for two reasons, first the car would be for sale, and the new owner may not want a ceramic coating - after all, this collector's item is unlikely to end up as a hard-driven daily driver.
The second reason is simple - when this product levels the optical finish, it looks amazing! As you can see from the final result…
Of course, the detail never stops with the paintwork. We also deep cleaned and finished the interior using Total Interior Cleaner and Spritz Interior Quick Detailer. The glass was also brought to a smear-free finish with Crystal Glass cleaner, and the engine bay was cleaned and finished with a combination of Finale Quick Detailer and Tripple. You can check out all of these little extras on the full video here.