Detailing a Reality TV Star - Honda Civic Type R Limited Edition
---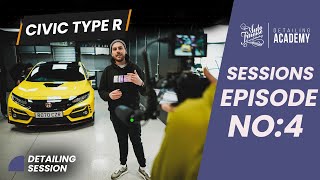 Being the hardened detailers we are here at Auto Finesse, we always look forward to when we can draft in a few of the staff (from the many different departments) to the Detailing Academy for a day of fun and suds on a car that's just a little bit special. Here's what went on behind the scenes in our latest Detailing Sessions video…
There's no denying that the FK8 Type-R is something of a Marmite motor, but that's more than okay with us. This particular brand of Japanese insanity may not be the usual style of car we see on the regular but, love or loathe the mentalist way it looks, this Limited Edition model of the latest CTR is all about performance… and that's what makes it more than a little special. It's actually the fastest FWD road car around the legendary Suzuka Circuit in the history of testing, and that's just for starters. This "racing-focused' 40-grand Civic comes in at 47kg lighter than the standard model, too. And it's on Forged BBS wheels. It doesn't even have a stereo!
Only available in Honda Sunlight Yellow, just 20 were offered in the UK (100 worldwide), and they sold out within an hour of being announced. Oh, and what's more, this particular car is even more special than all that - it's owned by Honda UK themselves, and has the serial number UK-001.
Far from pampered, it's safe to say that this particular example has been, what you might call, "used enthusiastically'. In fact, when you see a Type R limited Edition being thrashed on the TV, or in your favourite car magazine, it'll be this very car… and motoring journalists aren't exactly known for taking it easy on their "test' drives. Come to think of it, from a detailer's perspective, it's had a bit of a time of it there, too. These kind of media workhorses are repeatedly washed and wiped down on jobs, and not necessarily in a way that a true detailer would approach brand new paintwork.
But, the key thing here is that. although this car has been razzed around every track going, it's still Honda's flagship model and that means that it still has to look its very best, both in photographs and on the telly. So, while we'll be giving this one the full detail it clearly deserves (you can see the whole lot in the video above), the key processes to highlight here are the decontamination, enhancement and finishing stages. But, first of course, we'll give it a thorough pre-wash and contact wash…
It stands to reason that the harder a car is driven (especially in an environment where lots of cars may be hard driven at the same time) the more likely it is to pick up contaminants. It's also worth knowing that, due to the environment they often find themselves in, there could be a higher concentration of harmful contaminants, too.
Think of it like this; a performance car that does a lot of trackwork and fast-road driving will be more susceptible to the hottest brake dust, which essentially is metal shrapnel being thrown into, and embedding itself in the surface of, the paintwork. There's also a higher risk of tar, sticky residues, road rash and general grime becoming worked into the exterior. All this makes a full 3-stage decontamination essential to remove these foreign particles before any enhancement can take place.
The first step is to use Iron Out Contaminant Remover, this will chemically react with any ferrous metal particles, dissolving them into the solution, allowing them to be safely rinsed away.
With the metal contamination eradicated from the paintwork, we can move on to ObliTARate Tar & Glue Remover, a powerful solvent-based formula that dissolves sticky residues on contact. These can then be quickly wiped away with a microfibre cloth. One thing to note is that it's always crucial to re-wash the areas that have been treated with ObliTARate, using Lather Car Shampoo. This will neutralise any leftover solvents to prevent any interference with the next step.
Finally, we move onto the 'clay' stage where the last of the ingrained particles and debris can be pulled out of the surface, to leave behind a smooth finish that's perfect for paint correction or enhancement.
When using a Clay Bar it's important to utilise a suitable lubricant to help encapsulate any debris that's pulled out, and to help the clay glide freely across the surface. For this we have the perfect product for the task - Glide Clay Lube.
After a thorough inspection it was clear that only light correction of the odd swirl mark and imperfection was needed on this car - this stage would clearly be all about the enhancement. The most important consideration for any paint refinement job though, is what you're trying to achieve at the finish of the detail, and what kind of protection you'll be applying.
For cars that will be ceramic coated, using a polish or compound that doesn't contain any waxes or fillers is essential to prepare the surface for proper chemical bonding of the coating.
In this case though, we'll be using waxed-based protection later, for the simple reason that nothing gives the warm show-car look like Carnauba. For this particular job at least, appearances are far more important than the kind of durability or easy-clean properties that a ceramic coating offers. It also means that we can use Tripple All-in-One Polish which contains Carnauba wax (as well as special diminishing abrasives) as our enhancement product.
Tripple removes oxidation and light swirling with ease, cleaning and correcting, and leaving behind a protective layer of T1 Grade Carnauba. It's also safe for use on gloss plastic wings and trim… which is handy. As you can see, we have plenty of those here!
The final finishing stages may even be the most important phase for this job, simply because the finer details matter most when it comes to looking the part on camera.
It's worth remembering that this car may be used and abused, which would normally lend itself to a hardcore ceramic coating. But, as it's chiefly a showpiece (that just happens to be repeatedly driven hard and rewashed multiple times on every outing) user-friendly protection that not only looks amazing, but can be quickly re-applied during regular maintenance, is a must.
Radiance Carnauba Crème is the product that ticks all the boxes here. It comes with all the wet-look gloss and glow associated with a hard wax, but in an easy-to-use cream form. It's designed to install a radiant shine on all paint finishes and a slick surface that will repel grime and environmental fallout.
Application is supremely simple, too. A few drops on a microfibre pad will complete a whole panel, and you can apply Radiance to the whole car in one go, before letting it haze and buffing off with a fresh microfibre towel. Yes, it really is that easy, and Radiance can be applied time and time again for up to 3-months protection. We'll leave Honda a bottle or two in the boot for their next shoot!
Of course, other crucial finishing touches include quick jobs like making sure the glass is smear-free with Crystal Glass Cleaner, as well as nourishing, enhancing and protecting the rubber with Satin Tyre Crème.
One key area to highlight though, is finishing the engine bay because… well, what self-respecting magazine or TV show wouldn't have to feature a shot of that turbocharged CTR lump, right?
It's hardly an old, greasy bay of course, but that doesn't mean that it can't be massively enhanced with the right products. A wipe over with Finale Quick Detailer to remove any dust and dirt, along with a good helping of Dressle All Purpose Dressing to finish off the job, is all it takes to get this insane 4-pot fighting fresh.
So, there you go, that's the main areas that make this mighty CTR Limited Edition a little different from the detailing norm. And, as it's now ready for its next big outing, you can check out the full job, including the interior, in the video at the top of the page.