Tom's Audi TT: 3-Stage Paint Correction
---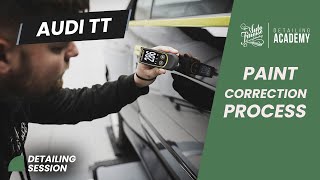 Sometimes we see daily drivers that, to the untrained eye at least, already look great. Often the owners of said cars are enthusiasts well versed in the ways of safe washing and finishing to an excellent standard, but that doesn't mean that they wouldn't like to push their car to the next level. For Tom's Audi here, that's was exactly the case.
You see, this particular TT may look entirely the part when whizzing past on the local B-roads, but as with anything when it comes to true detailing enthusiasts, we're inclined to look a little closer. The same can be said for Tom who, after a fair few months of bashing the country lanes, asked us to help cleanse his pride and joy of the various scratches and swirls that have been picked up over the years, before and during his ownership. Sure, this car was due a wash and an interior spruce up anyway, but being a black Audi - one of the most unforgiving of colours on a model with notoriously hard paint - this particular little coupe would benefit massively from full correction. Luckily, we have just the thing for the job - our Revitalise System and DPX Dual Action Polisher combo. But first of course, we had to wash and fully decontaminate…
We don't have to tell you that following a proper pre-wash and wash procedure is important, not least when preparing a car for paint correction. But, what's also vital is carrying out full decontamination to rid the surfaces of any contaminants that may cause problems in the later stages. Using the correct products and procedures, this is extremely straightforward, so after tackling the wheels and engine bay, we started by pre-washing with Avalanche Snow Foam and contact washing with Lather Car Shampoo. Only when all the major road grime had been lifted for the surface could we then get busy with the chemical removal of metal particles using Iron Out Contaminant Remover. With this completely rinsed away all that was left was eradication of sticky tar, with ObliTARrate Tar and Glue Remover, a wash and rinse to neutralise any left-over chemicals, and a good going over with one of our Handi Clay pads to pull out any remaining ingrained contaminants.
Once thoroughly dried we could roll the TT into the bay, ready to have the rubber window trims masked off. Tom had also requested we remove the front badges for a cleaner look, which is actually pretty easy when you know how. All it takes is some heavy gauge fishing line, a rubber eraser wheel and some ObliTARate to wipe away any glue residues.
ObliTARate
Auto Finesse® ObliTARate tar and glue remover, is a solvent-based formula that quickly dissolves stubborn tar and glue residues and contamination on contact eve... See product details More
This, as you've probably guessed, is the heart of the operation. Using a light source to inspect the paint, all the swirl marks and other imperfections become immediately apparent. These are what we would have to tackle with the use of these abrasive compounds.
We made a note of the areas which would require extra attention (particularly the passenger side which had seen significant contact with roadside hedges) and set to using the DPX to work through all three stages of the Revitalise System. With these products alone we managed to cut polish and refine the paint to a level of perfection that we suspect this car has never seen, even when it left the factory.
Even though many would expect to see the use of our Caramics Paint Protection Kit here, or for any daily driver, it's important not to forget other important influences, chiefly the wishes of the owner. Tom is an enthusiast who loves the regime of washing and applying a wax, and he would like to continue waxing his car regularly. He also prefers the depth and clarity offered by an uber quality, carnauba-packed product, so we treated his TT to two layers of our flagship hard wax - Desire. That's not to say that we didn't use our Caramics range to add some extreme protection in other areas. Both the wheels and windows were prepared and coated; processes we've designed to make ceramic coating easier than it's ever been.
Well, we think these speak for themselves here. But, while we've covered the basics in this blog, there were plenty of other stages and products used inside and out to get this car up to true Auto Finesse standards. Be sure to check out the video at the top of the page for the full rundown.