Detailing Courses
Training & Accreditation
---
The Academy host to a range of courses from the foundations of detailing through to professional week long training courses.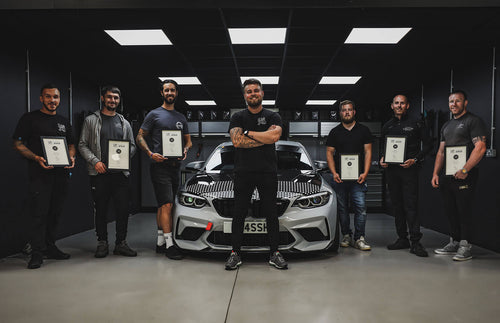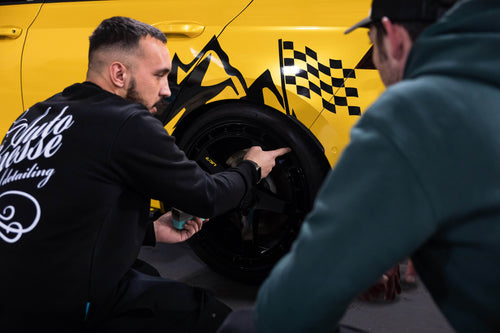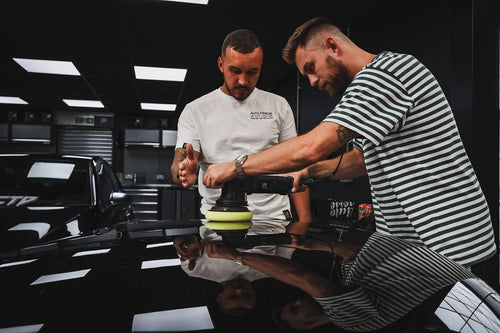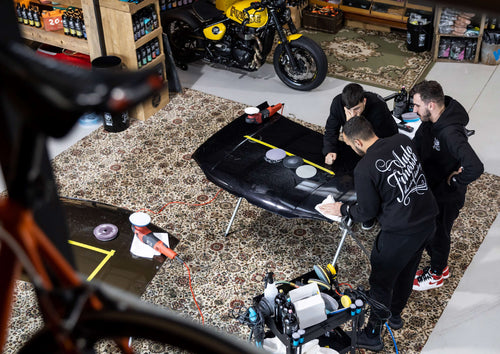 Unrivalled training from entry-level to accredited professional courses
---
Utilising both our state-of-the-art Detailing Academy training facility - The Auto Finesse and our fleet of fully-equipped pro detailing vans, we offer unrivalled training courses covering every aspect of unit-based and mobile car detailing.Ranging from entry-level foundation courses that give you the ability and self-confidence to detail your own car, to week-long accredited professional training courses designed to set you up for a successful career in the car care industry, every one of our comprehensive training programmes features a fully tailored curriculum to help you achieve your personal goals, while offering the coaching and guidance from our team of experienced Master Detailers guaranteed to take any ability to the next level.
5-Day Course
Master Detailer Course
---
Our flagship Master Detailer course sees our in-house Instructors take you through the entire detailing process from start to finish. Over the duration of this course you will learn to master all processes from safe routine maintenance and paint decontamination, to machine polishing, protection application and finishing to an industry-leading standard.Broken down over the course of a week, this comprehensive programme covers the science of all detailing stages providing key trade solutions specially-developed to help you set up, market and direct a successful detailing business.The intensive curriculum incorporates extensive practical sessions within the controlled environment of the Detailing Academy, along with a live mobile detailing session, on the road.
2-Day Course
Pro Detailing Course
---
Ideal for existing professional detailers, along with those looking to take their first steps in the car care industry, our 2-day Professional Detailing  Course covers every aspect of the exterior and interior cleaning process with intensive, hands-on training from our team of Master Detailers.This tailored programme also includes sessions on the key fundamentals of setting up and running a successful valeting business, with ongoing support and access to our specialist trade services.This course takes place in both the controlled environment of our state-of- the-art Academy detailing bays and on the road in one of our fully-equipped professional detailing vans, ensuring that both unit-based and mobile valeting are covered.
1-Day Course
Machine Polishing Course
---
Specially developed to cover every aspect of the machine polishing process, this comprehensive programme is designed to help you master the art, while giving you the skills and confidence to safely complete any professional paint enhancement, restoration and correction detail.This single-day, intensive programme takes place in one of our Detailing Academy polishing bays and covers a full range of products and accessories, with access to a vast array of professional equipment, including every type of machine polisher, polish and compound.Covering all stages - from preparation and polishing techniques to adding wax, sealant and ceramic protection layers - this course ensures that you're ready to take on scratches, swirl marks, holograms and other common paint defects, and refine the paintwork on any vehicle to a flawless, professional finish.
1-Day Course
Detail What You Bring Course
---
This comprehensive foundation course not only takes you through all the key detailing processes, teaching you the fundamentals of detailing and giving you the confidence to go on and safely detail any vehicle. But, our Detail What You Bring also offers the unique opportunity to bring your own pride and joy along to the Detailing Academy, and spend a full day using our products and facilities under the direction of one of our professional Master Detailers.Fully tailored to your requirements and focusing on the detailing processes you'd like to learn most, our Detail What You Bring Course not only imparts the skills and knowledge that are essential to complete your own car, inside and out, to the highest professional standard, but we also offer a series of intensive tasters into the detailing products, processes and trade secrets that are usually reserved for the industry professionals.
Master The Art Of Detailing
Master The Art Of Detailing
Serving the needs of the enthusiast & professional, the Academy is an Aladdin's cave for detailers.