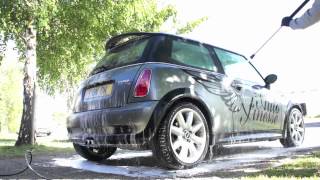 Here at Auto Finesse detailing products & car care we are proud to announce the launch of our new snow foam, Avalanche. Following the success of our pre-wash Citrus Power we kept receiving repeated emails asking for a snow foam with similar qualities, a good idea we thought, so we've been working on this foaming pre-wash snow foam for a while, testing and trying different formulas and now we have it, a snow foam with the cleaning abilities of our popular pre-wash Citrus Power along with its car wax safe and paint sealant safe characteristics.
With car care continually evolving the came the introduction of a foaming pre wash solution popularly known as a snow foam. In affect a snow foam is very similar to a citric pre-wash such as our popular pre-wash, Citrus Power. However where as Citrus Power can be used by anyone anywhere, a snow foam is designed for use with a pressure washer and a dedicated lance.
The power of the pressure washer pulls the snow foam mix from the lance and mixes it with water. The foaming solution then comes out of your lance and lays a blanket of white pre-wash down onto your car.
Based around our popular pre-wash Citrus Power, Avalanche uses citric cleaning agents to lift away and remove any light contamination such as; traffic film, road salts, bug splatter and other fallout.
Although Avalanche holds its own regards to the cleaning abilities of a snow foam, it still remains car wax and paint sealant safe on all painted surfaces that have previously been waxed with a carnauba wax or sealed with a synthetic paint sealant such as our Tough Coat. This makes Avalanche the perfect product to incorporate into your weekly car wash routine to make washing your car that bit easier and safer.
Start by using your snow foam lance bottle to mix your Avalanche. Add one or two inches of neat Avalanche into your bottle. Although this seems a small amount, it is the right amount to enable Avalanche to clean thoroughly whilst remaining car wax and paint sealant safe.
Next top your lance bottle up with warm water. Screw the lid onto your bottle and give the bottle a quick shake to mix the snow foam solution ready for use.
Cover your vehicle, top to bottom in snow foam. Be sure to cover all areas including grills, exhaust tips, wheels and wheel arches. As soon as Avalanche comes into contact with your vehicle it will start to work lift away any light contamination on your vehicles paintwork. Allow dwelling and then rinse clean with fresh water to reveal a cleaner surface to now perform a two bucket wash.
We found whilst making Avalanche snow foam there was always a throw up between having massively thick "shaving foam" style snow foam and pure cleaning power, we have gone a slightly different way in getting this to "cling" as you will see from the video below, its not the thickest foam but it clings to even a waxed or sealed surface very well, and the cleaning power is what we believe to be as close to a "touch-less wash" as possible.
Snow Foam & Lances
It's safe to say that over the past few years snow foam has become an infinitely popular detailing and car care favourite, and from its ease of use and effectiveness in shifting so...